Artistry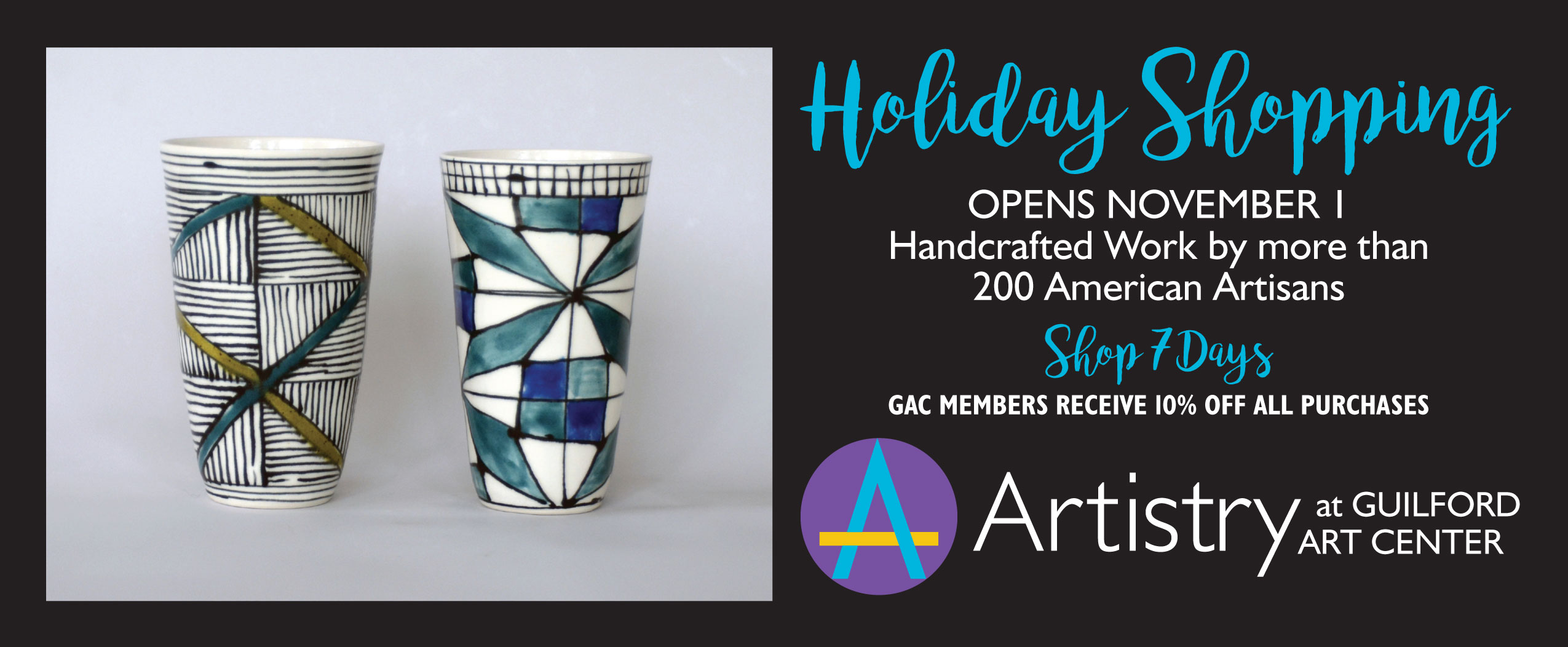 ANNUAL HOLIDAY SALE OF FINE CRAFT, JEWELRY & UNIQUE OBJECTS
November 1, 2018 – January 6, 2019
HOURS:
Monday-Friday, 9:00AM – 5:30PM
Thursday, 9:00AM – 8:00PM
Saturday, 10AM – 5:30PM
Sunday, 12:00 – 5:00PM
ARTISTRY is Guilford Art Center's annual holiday sale of fine craft, jewelry and unique objects from artists throughout the country. It is the Shoreline's most unique shopping destination to purchase distinctive and unique holiday gifts.
Artistry features a wide-range of craft in many price ranges, including ceramics, candles, glass, fine art, metal, jewelry, fiber, wood, ornaments, cards, specialty foods, soap, leather, toys and much more. All proceeds benefit Guilford Art Center, its educational and community programs.
The Artistry sale was established in 1978, and has since expanded in size and prominence to become one of the most popular holiday shopping destinations in Connecticut.
• READ: Shop Handmade for the Holidays at Guilford Art Center's Artistry Event
---
ARTISTRY EVENTS
OPENING RECEPTION
Thursday, November 1, 5-8pm
Free and open to the public. Kick off the season with this festive event, including beverages, snacks, giveaways and good cheer!

MEMBERS' WEEK — SPECIAL MEMBERS' BENEFITS
November 1 – November 7
Members receive 15% off all items and 10% off throughout the rest of sale. Become a member at any time and immediately receive this benefit.
JEWELRY & PROSECCO RECEPTION
November 29, 5-8pm
Enjoy a night of sparkle and socializing! Enjoy glasses of Prosecco and Aperol Spritz while viewing the wide range of jewelry made by American artists for all tastes, budgets, shapes and sizes. Free and open to the public. Prosecco generously donated by Mionetto.

OYSTERS & WHISKEY – MEN'S SHOPPING NIGHT
Thursday, December 20 6-8 pm
Need to do some last minute shopping? We're here to help – especially our male customers. Join us around the fire pit for freshly-shucked oysters, whiskey and other snacks and drink, then head into The Shop for holiday shopping. We'll have staff on hand to help with gift selections and wrapping. Free and open to the public.
---
Artistry features work by more than 200 artists from across the country. Here is a sampling of some of the fine products you'll see at the holiday event this year.
---