ONEHOPE Wine Tasting Fundraiser in Artistry Holiday Shop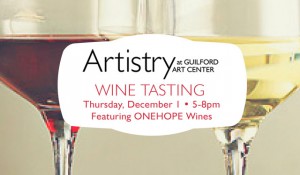 The public is invited to a free wine tasting event at Guilford Art Center on Thursday, December 1, 5-8 pm. Select wines from ONEHOPE will be offered in the Artistry Holiday Shop; a portion of proceeds of all wine sold will benefit Guilford Art Center's educational and community programs.
Shoppers will enjoy sampling a variety of whites, reds and sparkling wines while shopping for holiday gifts in the Guilford Art Center's holiday Artistry shop.
ONEHOPE was founded in 2007 with the vision of making the world a better place through beautifully crafted wines. The wine is produced with consulting winemaker Rob Mondavi Jr and a specific cause and quantifiable impact is built into every bottle.
Artistry: American Craft Shopping for the Holidays, which takes place November 3, 2016 through January 8, 2017, offers one-of-a-kind, handmade crafts by more than 200 artisans from across America, including ceramics, glass, jewelry, fiber, ornaments, accessories, toys, specialty foods, and more.
During Artistry, works spill from the shop into the gallery at the Center, making for a bountiful and festive display of fine craft objects. Scores of new artists will have their work featured this year, offering shoppers a huge array of unique gift ideas. New works are added throughout the course of the show, so visitors will want to return to snag a "find" they might not have seen before.
Artistry also offers visitors a variety of shopping experiences: personal shoppers are available for advice and gift-giving ideas; a registry makes gift-selection easy; and businesses can take advantage of personal shoppers and discounts for employee holiday gift-giving.
Proceeds from Artistry benefit the exhibiting artists and Guilford Art Center's educational and community programs. Hours are Monday through Saturday 10am-5:30pm and Sunday 12-5pm.
ONEHOPE WINE TASTING EVENT: Thursday, December 1, 5-8 pm Sample and purchase ONEHOPE wine while benefitting causes and non-profits, including GAC. Sip ONEHOPE whites, red, sparkling and reserve wines while you shop. Bring your friends and enjoy a festive evening while helping others (including finding them the right holiday gift!). Free and open to the public.
Guilford Art Center is located at 411 Church Street, Guilford, Connecticut (exit 58 off I-95). For more information call 203-453-5947 or contact www.guilfordartcenter.org.