Shop handmade American craft for gifts at the "Artistry" holiday shopping event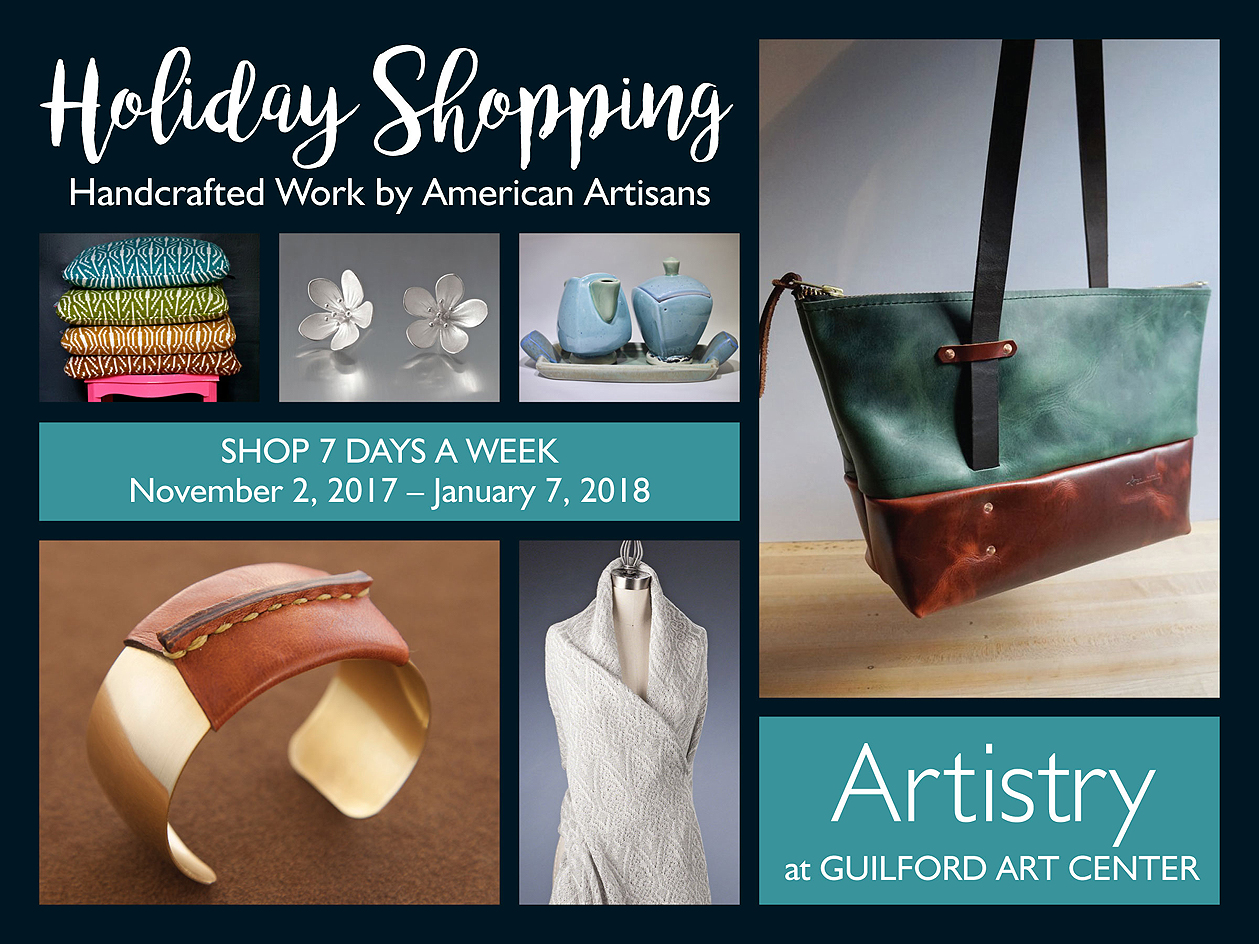 Guilford Art Center announces its much-anticipated annual holiday shopping event, Artistry: American Craft Shopping for the Holidays, which takes place November 2, 2017 through January 7, 2018. One-of-a-kind, handmade crafts by artisans from across America will be featured, including ceramics, glass, jewelry, fiber, ornaments, accessories, toys, specialty foods, leather goods and more.
The Shop at Guilford Art Center, open year-long, is almost doubled in size during Artistry, creating a bountiful selection of fine craft work for shoppers to peruse. This year features many new artists, both local and national, as well as new work by ongoing favorite artists. New items are added throughout the course of the show, so visitors will always have fresh shopping experiences every time they visit.
"The opportunity to shop local, as well as buy American-made goods is very important to people" says Guilford Art Center Executive Director Maureen Belden. "Every purchase made benefits an American artist, but it also helps to support GAC which provides art experiences in the community all year long. Plus, shoppers can find truly one-of-a-kind, special objects for everyone on their list. It's a win for everyone involved!"
Artistry also offers visitors a variety of shopping experiences: personal shoppers are available for advice and gift-giving ideas; a registry makes gift-selection easy; and businesses can take advantage of personal shoppers and discounts for employee holiday gift-giving.
Proceeds from Artistry benefit the exhibiting artists and Guilford Art Center's educational and community programs. Hours are Monday through Saturday 10am-5:30pm, Thursday 10am-8pm, and Sunday 12-5pm.
---
OPENING RECEPTION
Thursday, November 2, 5-8pm
Free and open to the public. Kick off the season with this festive event, including beverages, snacks and good cheer!
MEMBERS' WEEK—SPECIAL MEMBERS' BENEFITS
November 2 – November 8
Members receive 15% off all items and 10% off throughout the rest of sale. Become a member at any time and immediately receive this benefit.
JEWELRY & CHAMPAGNE RECEPTION
Thursday, November 30, 5-8pm
Enjoy a night of sparkle and socializing! Enjoy glasses of bubbly while viewing the wide range of jewelry made by American artists for all tastes, budgets, shapes and sizes. Free and open to the public.
MEN'S SHOPPING NIGHT
Thursday, December 21, 5-8 pm
Need to do some last minute shopping? We're here to help – especially our male customers. We'll serve beverages and snacks to keep up the energy levels, as well as have staff on hand to help with shopping and wrapping. Free and open to the public.
---
Guilford Art Center is located at 411 Church Street, Guilford, Connecticut (exit 58 off I-95). For more information call 203-453-5947 or contact www.guilfordartcenter.org.
---