Special Events
JOIN US FOR THESE EVENTS AT GUILFORD ART CENTER
The GUILFORD ART CENTER is always looking for different and enlightening ways for its members, students and friends to experience and appreciate the arts and creative process. With this in mind, from time to time we offer various special events, ranging from our annual fine craft EXPO on the Guilford Green to seasonal sales in our shop. Check this page frequently to learn of current featured happenings.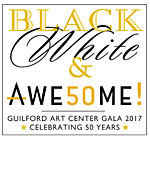 Guilford Art Center is pleased to announce its Black, White & Awe50ome! Gala event on Friday, June 2 at 6:30 pm at the Pine Orchard Yacht and Country Club in Branford, CT. This year Guilford Art Center celebrates its 50th anniversary of creating art and community and its continuing importance as a thriving cultural institution on the shoreline. (Read More)
Guilford Art Center celebrates its 50th ANNIVERSARY in 2017, an exciting milestone in our history of serving the community. Join us in the on-going celebration. Click here for details!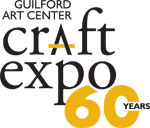 The annual CRAFT EXPO is a premier exhibition of handmade contemporary American craft. Draws an estimated 8,000 artists, collectors, and visitors from across the country. Decorative, functional, traditional, and contemporary craft made in America. Click here for more information.
ARTISTRY is the Center's annual holiday sale of fine American-made art and crafts. During this time, the Shop expands into the Gallery to accommodate a larger number and variety of items. Click here for more information.
SOUP FOR GOOD – Choose a one-of-a-kind handmade soup bowl with which to enjoy a warm soup supper. This benefit not only supports Guilford Art Center but also the Community Dining Room. At the end of this yummy event, guests take their bowl home "for good."
OPEN ARTS DAY is a free event, open to the public. The Art Center's studios and classrooms are open with instructor artists demonstrating their crafts and offering hands-on art projects. Visitors are invited to try out an art form (or two! Or three!) they want to learn more about, including, Pottery, Blacksmithing, Painting, Drawing, Weaving, Kids' classes and more. No reservations or registration are necessary, and all activities are free of charge.
---
Watch for details on our Calendar of Events for these and other special events!