Special Events
JOIN US FOR THESE EVENTS AT GUILFORD ART CENTER
The GUILFORD ART CENTER is always looking for different and enlightening ways for its members, students and friends to experience and appreciate the arts and creative process. With this in mind, from time to time we offer various special events, ranging from our annual fine craft EXPO on the Guilford Green to seasonal sales in our shop. Check this page frequently to learn of current featured happenings.
OPEN ARTS DAY is a free event, open to the public. The Art Center's studios and classrooms are open with instructor artists demonstrating their crafts and offering hands-on art projects. Visitors are invited to try out an art form (or two! Or three!) they want to learn more about, including, Pottery, Blacksmithing, Painting, Drawing, Weaving, Kids' classes and more. No reservations or registration are necessary, and all activities are free of charge.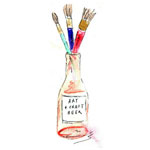 ART & CRAFT BEER FUNDRAISER – Sample some of Connecticut's best craft brews at GAC's annual Art & Craft Beer event each spring. Guests are invited to enjoy a selection of beers from area breweries, stroll through the gallery and enjoy bar food; wine and non-alcoholic beverages will also be served. Additionally, there is a silent auction of brewery items and works by GAC students. (Read More)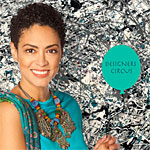 DESIGNERS CIRCUS is a Boston-based creative fashion and accessories event, presented as a "pop-up" sale in the Gallery at the Guilford Art Center. Watch for upcoming dates on the home page.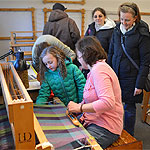 During PICTURE YOURSELF HERE WEEK Guilford Art Center opens its classrooms to anyone who would like to visit and observe a class for FREE during specific time periods each semester. The public is invited to see the studios, meet instructors and fellow students, and experience the class environment at GAC. Classes are offered for adults and children in a range of mediums, including blacksmithing, ceramics, fiber arts, metalsmithing, painting, drawing and more.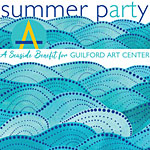 Guilford Art Center is pleased to announce its SEASIDE BENEFIT PARTY, to be held Friday, July 12 at 6:30 pm at the Owenego Beach & Tennis Club in Branford, CT. Click here for details and to purchase tickets.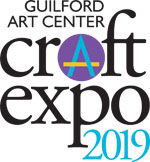 The annual CRAFT EXPO is a premier exhibition of handmade contemporary American craft. Draws an estimated 8,000 artists, collectors, and visitors from across the country. Decorative, functional, traditional, and contemporary craft made in America. Click here for more information.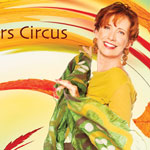 DESIGNERS CIRCUS is a pop-up clothing and accessories event, featuring work by small scale designers 50-90% below retail prices. This Boston-based creative fashion event fills the GAC Gallery for one weekend in the spring and fall. Watch for upcoming dates on the home page.
SOUP FOR GOOD – Choose a one-of-a-kind handmade soup bowl with which to enjoy a warm soup supper. This benefit not only supports Guilford Art Center but also the Community Dining Room. At the end of this yummy event, guests take their bowl home "for good."
ARTISTRY is the Center's annual holiday sale of fine American-made art and crafts. During this time, the Shop expands into the Gallery to accommodate a larger number and variety of items. Click here for more information.
---
Watch for details on our Calendar of Events for these and other special events!