CELEBRATING 50 YEARS

Guilford Art Center celebrates its 50th anniversary in 2017, an exciting milestone in our history of serving the community. Since our founding in 1967, Guilford Art Center has fostered the benefits of self-expression, cognitive and emotional wellness, ideas-sharing and common understanding that serves to gather and strengthen community. GAC is the primary resource for arts education and appreciation on the Connecticut shoreline, through classes in the visual arts, gallery exhibitions, a shop with unique works by American artisans and events that creatively engage and inspire.
OUR HISTORY
Founded in 1967 (as the Guilford Handcraft Center), the Center evolved from the first Handcraft Expo, held on the Guilford Green in 1957, in which local artisans displayed and demonstrated their crafts. Ten years later, the Center was incorporated and, since that time, has become a vital part of the town and shoreline community and culture. It serves as the most comprehensive art organization, and includes the largest public exhibition space, between New Haven and Old Lyme.
OUR 50TH ANNIVERSARY CAMPAIGN
We developed a visual campaign for this milestone anniversary that celebrates our iconic "A" with a twist: color and multiplicity. This lively set of color theory-based icons reference many elements of our 50-year accomplishment: the five decades that GAC has been in operation, the variety of mediums and classes offered, and the cultural and historically diversity of the arts.
---
UPCOMING EVENTS
FRIDAY, FEBRUARY 3
GAC Faculty & Student Exhibition: In Honor of 50 Years
Opening Reception 5-7 pm
New creations by faculty members and students at Guilford Art Center will be featured in the Faculty & Student Exhibition: In Honor of 50 Years, on view in the Center's gallery Feb 3 – March 5. The exhibition will highlight recent work in all media by faculty members and adult students who have taught or taken classes or workshops at the Center in the past two years.
The opening reception will kick-off the 50th anniversary year and will include 60s themed refreshments, an interactive art project, 50th anniversary merchandise for sale and a chance to meet participating artists. The opening reception is free and open to all.
FRIDAY, MARCH 4
2nd Annual Art & Craft Beer Event
Sample some of Connecticut's best craft brews at Guilford Art Center's Art & Craft Beer event, scheduled for Friday, March 3 from 6-8:30 pm at GAC. Guests are invited to try a selection of beers from area breweries. There will be bar food and live music, featuring alt-country musician Frank Nerkowski from Clinton, CT. Wine and non-alcoholic beverages will also be served. The Art Center Gallery will feature works from the Faculty & Student Exhibition. There will be live demonstrations ongoing in the blacksmith forge. Reservations are $50 per person, with proceeds to benefit Guilford Art Center's educational and community programs. Call to make a reservation at (203) 453-5947 or pay online here.
FRIDAY, JUNE 2
GAC Gala: Black, White & Awe50me!
This annual gala event, held at Pine Orchard Country Club in Branford, CT, features signature cocktails, three-course dinner, dancing with music by the HotHouse Band, a full open bar and live and silent auctions. This year's theme will be to celebrate our 50th anniversary. Tickets are $125 per person.
---
DONATE TO THE 50TH ANNIVERSARY CAMPAIGN
To Pay Online: To make your secure transaction online, please click on the DONATE NOW link below, and enter your contribution amount in the space provided. Suggested donations: $5,000, $2,500, $1,000, $500, $250, $100, $50, $25, or other.
To Pay by Mail: Please download a copy of our Annual Appeal form and mail it, along with your contribution to: GUILFORD ART CENTER, 411 Church Street, Guilford, CT 06437. Make checks payable to GUILFORD ART CENTER.
To Pay by Phone: Please have your credit card information ready, and call the GUILFORD ART CENTER at 203.453.5947.
---
FREE WITH $50 DONATION
New 50th Anniversary T-Shirts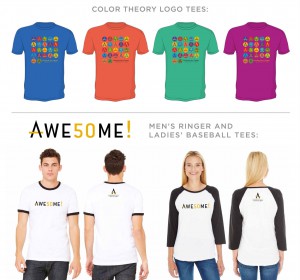 We're so excited about our new t-shirts to celebrate our 50th anniversary year! New graphics feature a lively set of color theory-based icons – marking GAC's five decades, our variety of creative offerings and the cultural and historical diversity of the arts.
We couldn't stop at just one design either. Why? Because operating for 50 years as a thriving art center in this wonderful community is AWE50ME. We just had to share the joy!
Limited edition 50th edition shirts are free with a $50 donation; additional shirts can be purchased for $25. We have all the sizes and colors in The Shop, ready for purchase.