Whiskey, Oysters & Shopping at Men's Night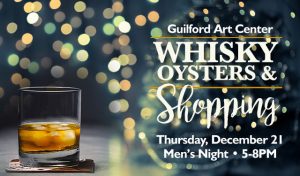 Guilford Art Center announces a special shopping event for men on Thursday, December 21, 2017 from 5-8 pm. Shoppers will enjoy scotch whiskey and oyster tastings and shop for jewelry, accessories, ceramics, leather goods, home décor, ornaments, baby gifts, men's items and much more. Friendly shop assistants will be on hand to help with selections and gift wrapping. This event is free to the public. All shoppers are welcome.
The Shop at Guilford Art Center, open year-long, is almost doubled in size during the Artistry holiday sale, creating a bountiful selection of fine craft work for shoppers to peruse. This year features many new artists, both local and national, as well as new work by ongoing favorite artists. New items are added throughout the course of the show, so visitors will always have fresh shopping experiences every time they visit.
Proceeds from Artistry benefit the exhibiting artists and Guilford Art Center's educational and community programs. Hours are Monday through Saturday 10am-5:30pm, Thursday 10am-8pm, and Sunday 12-5pm.
Guilford Art Center is located at 411 Church Street, Guilford, Connecticut (exit 58 off I-95). For more information call 203-453-5947 or contact www.guilfordartcenter.org.
About Guilford Art Center
The Guilford Art Center is a non-profit school, shop and gallery established to nurture and support excellence in the arts. Through classes for adults and children, gallery programs, a shop of contemporary crafts, and special events, the Center fulfills its mission to provide opportunities for the public to participate in the arts, to experience their cultural and historical diversity, and to appreciate the process and product of creative work. It receives support from the Connecticut Dept. of Economic and Community Development. Founded in 1967 (as the Guilford Handcraft Center), the Center evolved from the first Handcraft Expo, held on the Guilford Green in 1957. It currently serves over 2,000 students in classes, presents juried and invitational exhibits of art in the Center's gallery and operates a shop of fine, handmade American crafts year-round. The Center also presents the Craft Expo, held on the Guilford Green each year in July, that features works by more than 180 of the country's most distinguished artisans and is a much-anticipated annual event for the shoreline community.