Winter Semester Registration Open!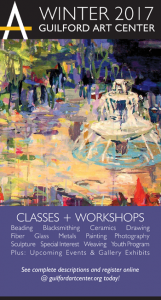 Classes & Workshops Begin January 2017
New classes include lots of photography options, fly tying and a Haiku writing workshop for adults; new kids workshops include mud painting (how fun is that?!) and water bottle art! Click here to see all class listings for adults and children.
Printed catalogs should be in your mailbox soon. Let us know if you want to be added to the mailing list at info@guilfordartcenter.org.