2019 Winter Semester Classes & Workshops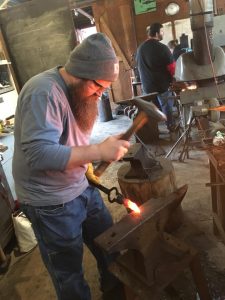 Registration is now open for Winter 2019 classes and workshops at Guilford Art Center. Classes are offered for youth (ages 3 ½ and older), teens and adults. The winter semester runs from January 14 – March 10, 2019 for adults and youth.
Classes and workshops are offered in a range of mediums, including beading, glass, ceramics, blacksmithing, drawing, fiber, painting, photography, sculpture, weaving and more.
Two classes recently added that are not in the printed catalog are "Comics" (open to ages 8+) starting Jan 18 and "Unified Art: Creating Art Together" (open to ages 6-12) beginning Jan 15.
Full listings of all classes can be found on the GAC website at www.guilfordartcenter.org. Students can register online or by calling the GAC office at (203) 453-5947. Printed catalogs for adult and youth programs are also available.
Financial aid is available.
For more information contact Guilford Art Center at info@guilfordartcenter.org or call (203) 453-5947.
---
The Guilford Art Center is a non-profit school, shop and gallery established to nurture and support excellence in the arts. Through classes for adults and children, gallery programs, a shop of contemporary crafts, and special events, the Center fulfills its mission to provide opportunities for the public to participate in the arts, to experience their cultural and historical diversity, and to appreciate the process and product of creative work. Founded in 1967 (as the Guilford Handcraft Center), the Center evolved from the first Handcraft Expo, held on the Guilford Green in 1957. It currently serves over 2,000 students in classes, presents juried and invitational exhibits of art in the Center's gallery and operates a shop of fine, handmade American crafts year-round. The Center also presents the Craft Expo, held on the Guilford Green each year in July, that features works by more than 180 of the country's most distinguished artisans and is a much-anticipated annual event for the shoreline community.