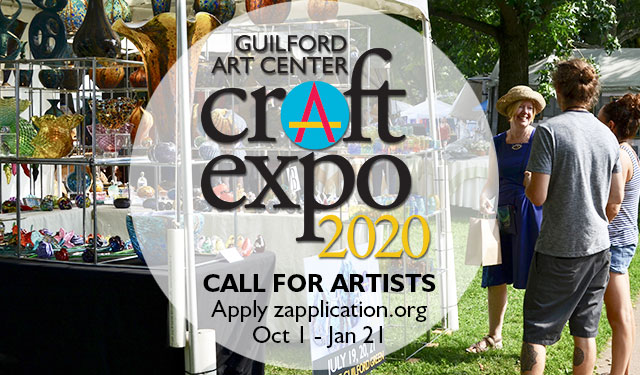 It's time to apply for Guilford Craft Expo 2020!
APPLICATION DEADLINE – JANUARY 21, 2020
Show Dates and Hours:
Friday, July 17— 11am-7:30pm
Saturday, July 18 — 10am-7pm
Sunday, July 19 — 12am-5pm
*note Friday hours have changed to 11:00am-7:30pm
Guilford Art Center's Guilford Craft Expo 2020 continues a 63-year tradition of bringing exceptional fine craft to Guilford, CT. The historic Guilford green is the perfect venue for Craft Expo, minutes from I-95 and halfway between NY and Boston. Craft Expo provides the artist an opportunity to be in front of thousands of loyal, knowledgeable customers.
Guilford Craft Expo is listed in Sunshine Artists top 200 Best Shows in America.
---
Special features include: Maker demonstrations by Guilford Art Center instructors and students, silent auction, a student tent, musical entertainment, food court, and new emerging artist category.
We invite artists, designers, and makers with high quality, handcrafted, original work, representing a variety of media including Clay, Glass, Leather, Metal, Mixed Media, Metal and Non-Metal Jewelry, Wearable and Non-Wearable Fiber, Paper, Painting, Photography, Printmaking, Sculpture or Wood, to apply. Works must be handcrafted in North America by an individual or with the help of a limited number of assistants.
All gate proceeds provide support for the Center's school, gallery, and community programs.
---
COMPREHENSIVE MARKETING PACKAGE
Artist listings directory, featuring artists link, on the Guilford Art Center website
Map and artist listing broadly distributed throughout the shoreline area and day of show
Complimentary marketing materials for artist use including postcards, social media graphics and customizable emails with free ticket promo code
PR exposure via the show's extensive media relations
Postcard "Cover Artist" selected from participating artists
---
ARTIST AMENITIES
Your choice of booth location either inside large tents provided by the art center or outdoor set up of your own tent
500 watts of electricity included
24-hour on-site security provided
Volunteer Booth Sitters
Early access for set up. Thursday 10am-8:30pm and Friday, 7am-10:30am
Booth Signage
2' storage for inventory replenishment
Complimentary Saturday evening artist dinner.
Convenient parking
Artists retain all sales proceeds
RV parking, limited, first-come-first-served basis
Complimentary water and fanned tents
---
ARTIST APPLICATION
To complete an application, CLICK HERE.
---
EMERGING ARTIST PROGRAM
Guilford Craft Expo Emerging Artists program provides 5×10 spaces dedicated to up and coming artists, designers and makers. To be considered, you must meet the shows requirements. For more details about this exciting opportunity, CLICK HERE.
---
JURORS
We are pleased to welcome our jurors in this year's selection of works, Kimberly Winkle, Rod McCormick and Jodi Colella. For more juror information, CLICK HERE.