Update with Maureen Belden, GAC Exec Director
---
New! "Online Learning" Page on GAC Website
While we are social distancing, we can still experience and learn from our inspiring GAC community. Please check out our new Online Learning page and find online sessions, demonstrations, studio tours, virtual galleries, creative ideas and links. Even though we can't be together physically, creativity isn't cancelled! We can still share the arts in so many ways.
We will continually add new learning opportunities to this page, so make sure to check in frequently for the latest content.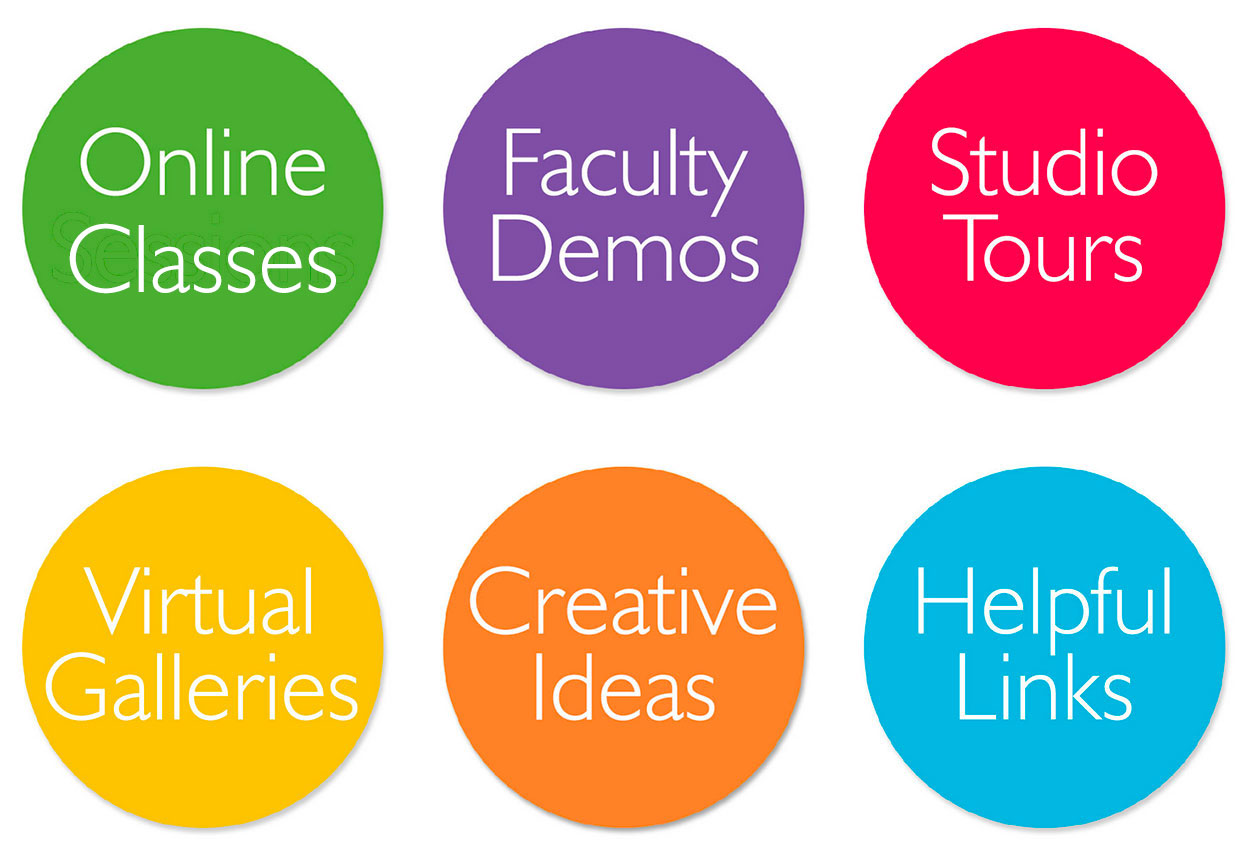 ---
A Bit of Good News! Construction Project Underway
We are happy to announce some very positive news for our GAC community: We are moving ahead on the construction project in our school building during this time we are closed to the public.
As many of you know, GAC's 50th anniversary capital campaign is dedicated to renovations to our school, creating improvements in the educational experience for our students and all in our community. Through the generosity of many loyal donors, we have raised funds that are specifically allocated and restricted to this project. We will be increasing space in our ceramics and weaving studios, creating a new, all-purpose studio, and adding some kid-friendly amenities.
Forging ahead with this project now allows a good deal of the work to take place with no disruptions to classes. It enables a productive and forward-looking step at this otherwise limbo-like period of time. It allows us to provide some livelihood to those in the building trades, with our partners CK Architects and ARD Builders assuring that they will be stringently following all health and safety guidelines for their industry. And it offers us a positive and hopeful beacon for when we are able to return to gathering on campus.
Please know that any student work or supplies that were left in the school will remain secure.
We are looking forward to realizing this exciting development for Guilford Art Center, our students, instructors, and our larger community. We are grateful to our donors to this project and for their support of the arts and their positive benefits for all.
---
Every Wednesday at 2 pm: "Creative Check-In" Discussion on Zoom
We hope everyone is safe and healthy while at home. In the meantime, please check in with us every Wednesday, 2 pm for the "Creative Check-In" Zoom call. Whether or not you're feeling creative (and we know many of you aren't right now) it's good to gather digitally and share our experiences, challenges and inspirations. And just so nice to see familiar faces, or meet new ones! It's free and open to the community. No need to register.
Join Zoom Meeting
Wednesday April 29, 2 pm
https://zoom.us/j/97845836958
Meeting ID: 978 4583 6958
---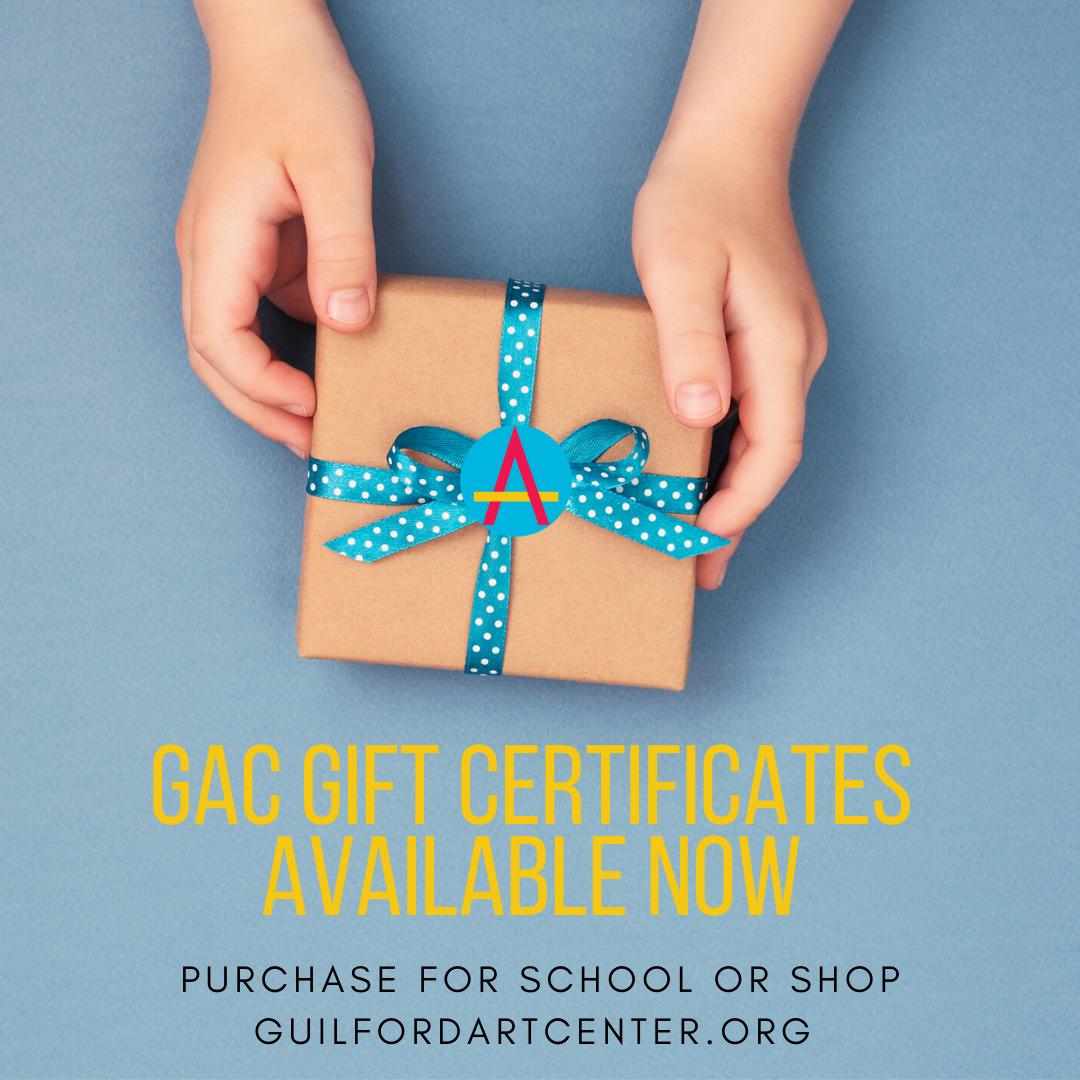 Gift Certificates for School and Shop
Our Shop will remain closed for the foreseeable future, but you can think about your gift-giving needs now. You can purchase gift cards for our Shop or School directly on our website. They are available in any amount and, best part of all, they NEVER expire!
---
Summer Adult Semester Registration Opens JUNE 1
The summer semester begins July 6, and we're hopeful we can get everyone back into the school by this time! Online registration will open June 1 at 8pm.
We're excited to offer a full range of classes across mediums, including some new things like The Fine Line of Pen & Ink, Watercolor Vegetables, Shades of Blue, (indigo dyeing class), Photo Walk on the Guilford Green, Intuitive Painting, Tote Bag 101, Frontier Knife & Hatchet. Eco-Dyed Fabric Beads, Drawing from Nature, Collage & Paint, and many more. Check out our website for all of the classes and workshops we're offering. It will feel good to start thinking about all plans outside of your house! If you have questions, please contact us at info@guilfordartcenter.org.
---
Summer Youth Program Registration is Open
We have our fingers crossed that the summer youth program will be up and running from July 6 – August 28. Registration is open online; you can see the entire catalog of summer youth class offerings here. Programming is open to children ages 4-12 years, plus teen blacksmithing. Weekly programs will feature a variety of classes built around popular themes and techniques. Children can explore ceramics, painting, drawing, weaving, sewing, printmaking, metalsmithing, photography, mixed media and much more!
Choose half-day or full-day programs. Tuition assistance is available. Questions? Send us an email at info@guilfordartcenter.org.
* note teens ages 13+ can take any adult class

---
Follow us on Facebook
We are posting interesting, inspiring, education and sometimes, downright entertaining, content on our Facebook page. Please follow us – and share your stories too! We hope to remain connected while physically apart.