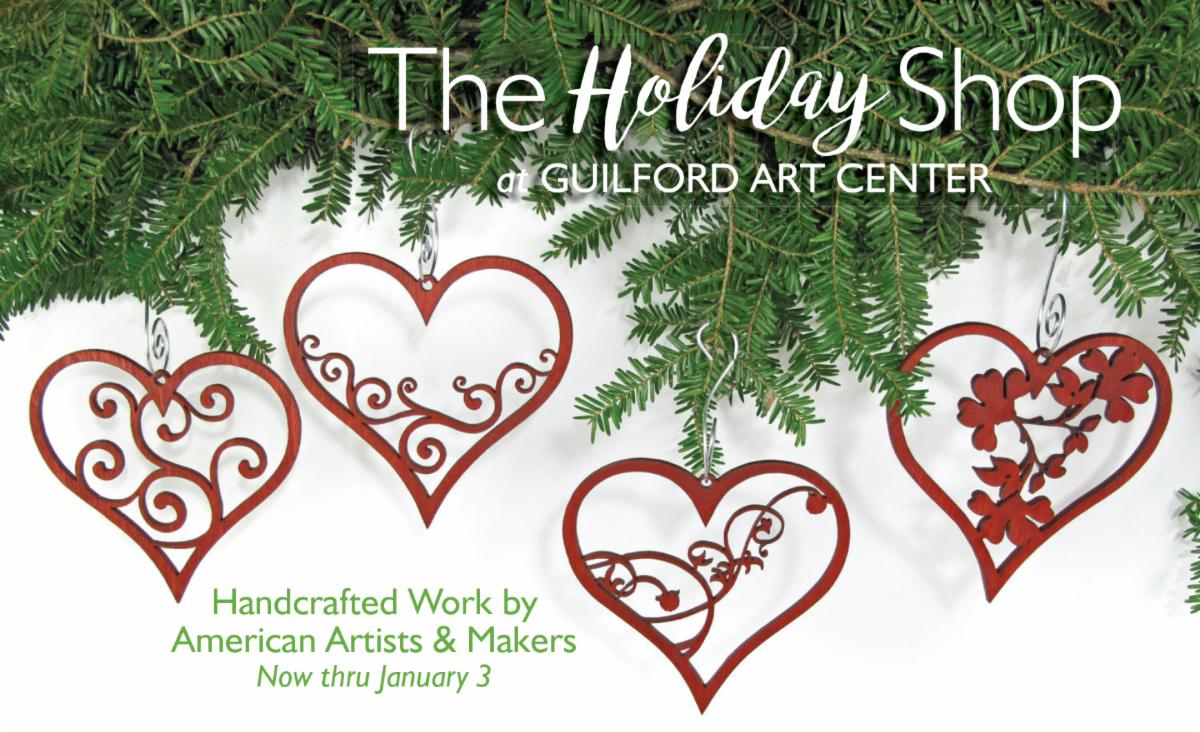 Hooray! Our Shop Re-Opens Today!
We are thrilled to welcome all of our supporters and shoppers back to The Shop today at NOON. We decided it made sense to start our annual holiday sale to coincide with our re-opening this year. You'll find the shop and gallery space filled with work by over 200 American artists. It's not too early to start your holiday shopping – especially this year!
Please take note of our new shopping hours:
Wednesday 12:00 – 4:00 pm
Thursday 12:00 – 4:00 pm
Friday 12:00 – 4:00 pm
Saturday 10:00 am – 4:00 pm
We're offering a safe shopping experience, but with all of the warm customer service you'd expect. All shoppers must wear a mask over their nose and mouth, and observe social distancing guidelines while in the shop. To see GAC COVID-19 protocols,
click here
.
---
15% Discount on All Purchases During Members Week, October 1-10
One of the benefits of GAC membership is shopping discounts during Members Week. All purchases made during Oct 1-10 will be 15% off for current GAC members.
Do you need to purchase or renew your membership?
Click here
for membership information. You can enjoy your discount immediately after renewing/purchasing.
---
LaBella Guest Curates for American Craft Council
GAC Mixed Media instructor Marcy LaBella is a new Guest Curator for the
American Craft Council
. Follow her this week on
Facebook
and
Instagram
for the Maker X Maker where she spotlights her favorite artists. Several are GAC faculty, including Cheryl Tuttle,
David Frank Pottery
and Justin Gerace. The ACC will release a new post every day.
---
BEADING
BLACKSMITHING
CALLIGRAPHY
FIBER
METALS
PAINTING
SPECIAL INTEREST
Youth Workshops – Register Now!
ON-CAMPUS
Ages 6+
ONLINE
Ages 5+
All Ages
This workshop provides an opportunity for families to be creative together, welcome the holiday season and enjoy family time in a relaxed and fun manner. Materials needed are not costly and some substitutions can be made. Make a cup of hot chocolate or cider and join us!
Tuition $22.50 per person; GAC members $20.25 per person
---
Contacting GAC
Our office staff continue to work from home. The best way to contact us via email at
info@guilfordartcenter.org
(our staff director is listed
here
) or to leave a message on the office phone (203) 453-5947. We check it regularly and will get back to you. If you are looking for your Zoom class information, please check your registration confirmation. It is listed there and the login codes remain consistent throughout the semester.