Faculty Profile: Emma Ballachino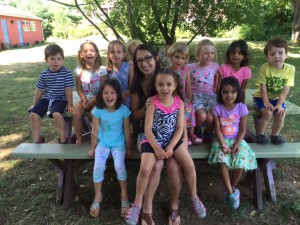 Emma is an Old Lyme native and is studying Art Education at MA College of Art & Design. This is her third summer working for GAC coordinating the youth program.
What's your favorite thing about working with children?
Watching children make art is so inspiring to me. They are so free in the way they work, and come up with such creative and unique ways to make art. The kids' silly personalities and talent make my job really fun.
What has surprised you this summer working with the GAC youth program?
The instructors at GAC guide even the youngest of students to make really sophisticated artwork. "Kid art" can be so much more than crayon drawings, and the Art Center is a place where young artists can grow and thrive. It's a privilege to work with such talented students and teachers, but not a surprise at all!
Do you have a favorite artist?
It's very hard to pick just one! I particularly love Tara Donovan and Andy Goldsworthy.
If stranded on a desert island, what 3 things would you want with you?
A fire starter, a knife, and of course Bear Grylls.
What makes the GAC special to you?
Every day when I walk into the classrooms, students are excited to show off all of the things that they've made. It makes me so happy to see children of all ages proud of their work and excited to learn and make. The Guilford Art Center has the materials, the facility, and the talented and loving staff to make moment like that happen all the time.