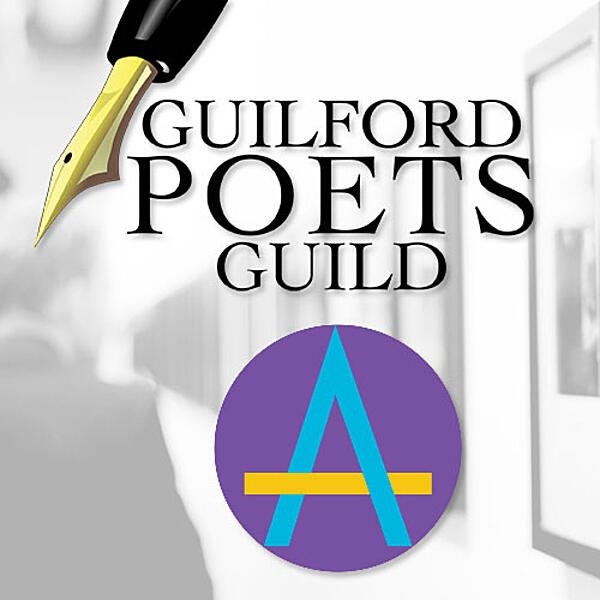 Ekphrastic Poetry Reading & Gallery Exhibition
Sunday, May 1, 2-4 pm
Join members of the Guilford Poets Guild (GPG) as they present poems inspired by selected works of art in GAC's 2020 Student Exhibition on Sunday, March 1, 2-4pm. It's free and open to the public.
Ekphrastic poetry is a response to a visual work of art, often a vivid, dramatic works that takes a painting, sculpture or other artwork as its inspiration. For this event, GPG members will read their poems in response to selected works in the exhibition. It brings a fascinating perspective to works on view. We hope you can join us.
---
New Brewery Added to Liquid Art event

We're excited to welcome back our friends from Thimble Island Brewery to our "Liquid Art" event on Friday, March 6. They'll be pouring IPAs, lagers, seasonals and ales. We now have 7 liquid craft purveyors participating, so there's lots to enjoy!
Participants to date include:
Deep River Distillery, Chester
Fifth State Distillery, Bridgeport
Owls Brew Boozy Tea. Beacon Falls
Spoke + Spy Ciderworks, Middletown
Stewards of the Land Brewery, Northford
Thimble Island Brewery, Branford
Tickets are only $35 per person. Come support GAC at this casual evening of small craft libations, food, live jazz music and great community!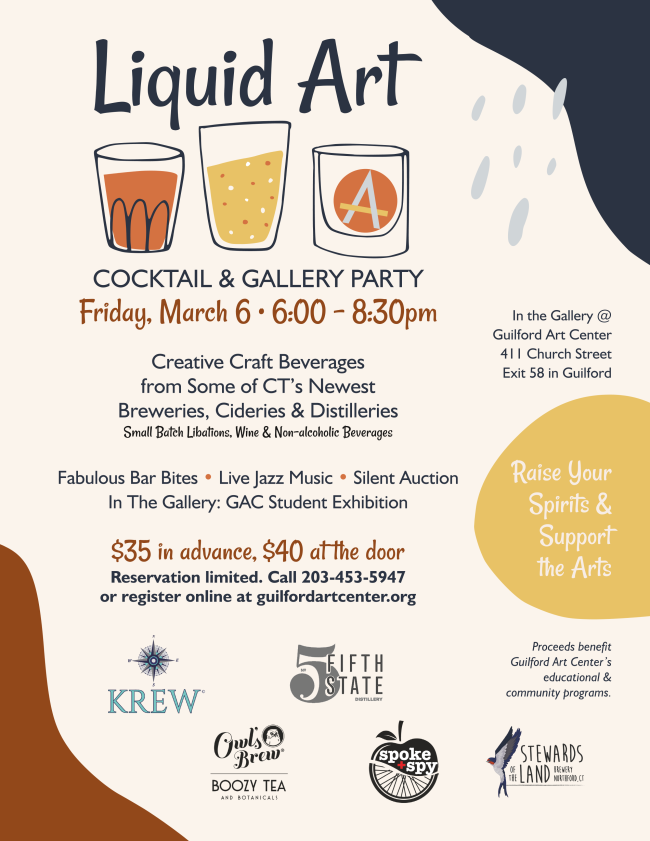 ---
February & March Workshops
BLACKSMITHING
Feb 29-Mar 1 Forging a Ladle
March 21-22 Higonakami Friction Folding Knife
March 28-29 Garden Tools
CALLIGRAPHY
March 21 The Uncial Hand
March 21 Celtic Knot Decoration
CERAMICS
March 21-22 Make Your Mark
FIBER
March 7-8 Sashiko Stitching Explorations & Scarf Making
March 14-15 Penny Rug
March 29 Jazz up your Jeans with Eco-Applique Mending
METALS
Feb 29 Making Flatware
March 1 All About Stone Setting
PAINTING
Feb 29 Watercolor for Absolute Beginners (Just added! Session B)
PHOTOGRAPHY
Feb 29 Photographing Artwork
SPECIAL INTEREST
March 21 Creative Collage with Encaustic
YOUTH PROGRAMS (looking ahead!)
April Vacation Workshops 9am-12pm (ages 7+)
April 13: Clay Explorations
April 14: Still Life Painting
April 15: Mixed Media Collage
---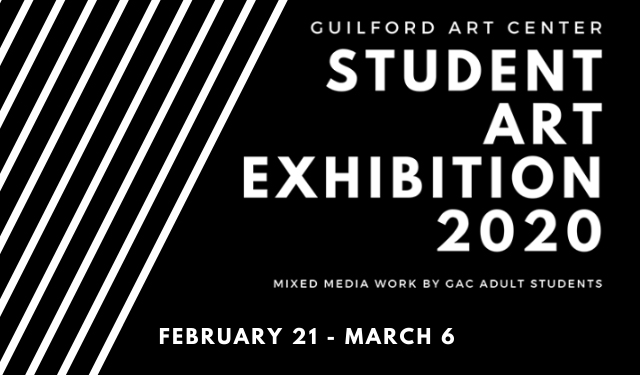 ---
Time for Spring Classes
Think spring and register for classes now! Click here for online registration. You can find a list of classes on the registration site or pick up a catalog at the office
---
Volunteer for Designers Circus
Designers Circus pop-up shopping and accessory event is back in the gallery on April 9, 10, 11. We're looking for some volunteers to help. If interested, please contact Maureen Belden at mbelden@guilfordartcenter.org.
---
Summer Youth Program Coordinator Needed
GAC seeks a coordinator to help steward our summer youth program. This is an ideal professional opportunity for a college student, recent graduate, or high school upperclassman with an interest in art, education, or a related field, and a chance to spend the summer working with kids in a creative environment.
This part-time, paid position runs for 8 weeks: June 29-August 21, 2020, 5 days a week, Monday-Friday, 8:30-1:30pm, with possible additional planning time before these dates.
For more details, and to apply for the position, please send a note of interest and resume to lwolkow@guilfordartcenter.org. No phone calls please.
---
CALL FOR ARTISTS
Fiber Forward 2020: biennial exhibition
Show Dates: June 12 – July 19, 2020
Entry Date: April 24, 2020
Click here for more info and CFE download
---
Flour Sack Tea Towels – These hand-printed towels are made by participants at East Street Arts in New Haven. This social enterprise organization provides artisan training programs, workshops and community interactions for persons of all abilities. For more info on this great organization, click here. $12 each.
---
UPCOMING EVENTS
March 6 – Liquid Art Cocktail & Gallery Party
March 13 – Opening Reception; Northeast Glass Juried Exhibition
March 23 – Spring Semester Begins
April 9-11 – Designers Circus Pop-Up Shopping Event
April 10-11 – Michael Alexander Jewelry Trunk Show