SUMMER POP-UP SHOPPING EVENTS
Pop-Up this Saturday from 10am-4pm
Shop this Saturday at GAC's Summer Pop-Up, where artists will be set up outdoors in tents and have full display of their work. Come support these local artists and find unique handcrafted goods; its the perfect time to pick up gifts or something special for yourself! There is no fee for this event and it's open to all.
PARTICIPATING ARTISTS
Kate Stephen Jewelry
Carrie Whelan Designs (Jewelry)
Anne Marie Papineau (Painted Glass)
Touchwood Designs/Charlie Ritrovato (Woodworking)
Still Waters USA (Seaglass)
Elm City Botanicals (Soaps)
Carol Stanland (Fiber)
Barbara Hernandez (Mixed Media)
---

SPRING WORKSHOPS & CLASSES
TRY YOUR HAND AT PAINTING & DRAWING WORKSHOP
Saturday, May 28, 10:00am-1:30pm
Instructor: Scott Paterson
This workshop is geared towards the "absolute adult beginner" to learn the basics of painting and drawing in a supportive environment. Learn about basic techniques, materials and approaches to working creatively in two dimensions.
FLOWER POT CREATIONS WORKSHOP (ages 6+)
Saturday, May 28, 10:00am-12:00pm
Instructor: Betsy Chichester
While creating their own flower pot for the garden children will have fun with terra cotta clay. Learn about hand building and decorate the outside, attaching clay coils, flowers, faces, animals or whatever they can imagine.
FORGING TONGS WORKSHOP
Saturday-Sunday, June 4-5, 10:00am-4:00pm
Instructor: Greg AmEnde
Learn basic techniques of forging blacksmith's tongs; explore the process and explore different jaw styles. This workshop is intended for students who have some forging experience and good hammer control but beginners are also welcome.
POT HOLDER WEAVING WITH A MODERN TWIST WORKSHOP
Friday, June 3, 9:30am-12:30pm
Instructor: Claudia Mathison
Enjoy this craft once again using cotton loops, sophisticated patterns and gorgeous colors.
MAKE AN OCTOPUS WORKSHOP (ages 5+)
Saturday, June 4, 10:00am-12:00pm
Instructor: Jasmine Ahern
Together we'll use recycled fabrics like old shirts to stuff and put together an Octopus teddy to take home!
CANDLESTICK HOLDERS WORKSHOP
Saturday, June 4, 10:00am-4:00pm
Instructor: Joy Raskin
Using a combination of sheet metal and thick wire, we will make a single or pair of candlestick holders. We will be using brass, bronze and copper. These holders are not difficult to make – we promise!
SIMPLE METALSMITHING WORKSHOP
Sunday, June 5, 10:00am-4:00pm
Instructor: Joy Raskin
Learn metalsmithing skills such as working with wire to make simple jewelry; cut out sheet metal, texture with hammers, drill holes to connect ear wires or link together. Use simple hand tools like pliers, metal shears, hammers and more.
FORGING YOUR OWN HAMMER WORKSHOP
Saturday-Sunday, June 11-12, 10:00am-4:00pm
Instructor: Aidan Garrity
In this workshop students will forge their own hammers and make and mount handles.
TEEN BLACKSMITHING
3 Tuesdays beginning June 14, 3:30-5:30pm
Instructor: Colt Allen
Learn to build a coal fire and use the new skills to make small projects such as hooks, fire pokers, and hand-forged jewelry.
---

IN THE GALLERY
New Current Exhibition by Gallery One Artists
The "New Currents" exhibition features works by Gallery One artists and celebrates the role of art in navigating the currents of life. Connecticut-based Gallery One represents a diverse group of established artists whose works reflect different artistic traditions.
On View at the Guilford Art Center from May 13 – June 5, 2022. Open 7 days a week, Monday – Saturday 10am-4pm, Sunday 12-4pm. Entry is free & open to the community.
(Featured Image above: Mixed Media by Ann Knickerbocker)
---

IN THE SHOP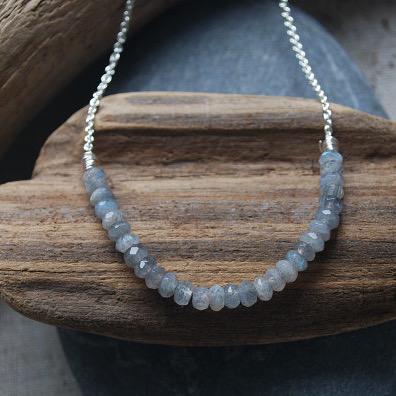 Contemporary designs with silver and stone by Maine jewelry artist Lisa Gent.
Shop 7 days a week Monday-Saturday 10am-4pm, Sundays 12-4pm. GAC members receive 10% off all purchases
---

MARK YOUR CALENDAR
Guilford Art Center is proud to support the #SongStrong5k race in Guilford on Saturday, June 4.
The race celebrates the life of Guilford's Ethan Song who passed away in January 2018 at the age of 15. All proceeds go to the Ethan Miller Song Foundation, a non-profit that develops and supports Ethan's causes and programs that keep kids safe.
The course begins at the Guilford fairgrounds and winds along the beautiful shoreline and through historic Guilford. This event is perfect for runners, walkers, adults and kids – it is family friendly and appropriate for all abilities. Can't make the event but still want to support? You can be a sponsor or donor!
CLICK HERE to for more info and to register as a participant or supporter. Hope to see you there!
---
Connecticut's Premier Outdoor Juried Show of American Craft
FRI, SAT, & SUN – JULY 15, 16 & 17
Friday, July 15 from 11:00AM-7:30PM
Saturday, July 16 from 10:00AM-7:00PM
Sunday, July 17 from 12:00-5:00PM
(Rain or Shine)
ON THE GUILFORD GREEN IN GUILFORD, CT