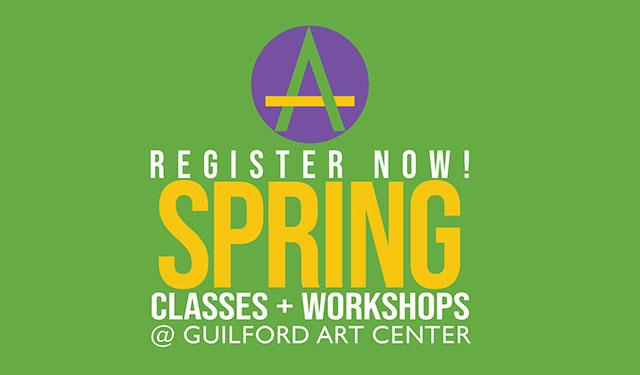 Registration is now open for Spring 2020 classes and workshops at Guilford Art Center. Classes are offered for youth (ages 5 yrs and older), teens and adults. The spring semester runs from March 23– May 17.
Classes and workshops are offered in a range of mediums, including beading, glass, ceramics, blacksmithing, drawing, fiber, painting, photography, sculpture, weaving and more.
Blacksmithing classes include introductory sessions, making fireplace tools, jewelry, hammer and colonial hinges. Pottery students can pursue hand building and potter's wheel techniques. Expanded fiber arts classes include sacred weavings, knitting, heirloom ragdolls, sewing machine basics, indigo dyeing, leaf and textile printing.
Painting classes include watercolors, acrylics, figurative abstraction, encaustic and mixing color. Metals includes introductory classes, weaving with wire, making miniature bowls, stacking rings, resin jewelry and precious metal clay. There are multiple levels of photography classes. Special interest classes include silkscreening, creative collage, art journaling and writing and drawing into the third act of life.
Children's classes include painting and drawing, clay, sewing, hand stitching and exploratory art. Teen classes include portfolio development and blacksmithing.
Full listings of all classes can be found on the GAC website at www.guilfordartcenter.org. Students can register online or by calling the GAC office at (203) 453-5947. Printed catalogs are also available.
Financial aid is available.
For more information, contact Guilford Art Center at info@guilfordartcenter.org or call (203) 453-5947.