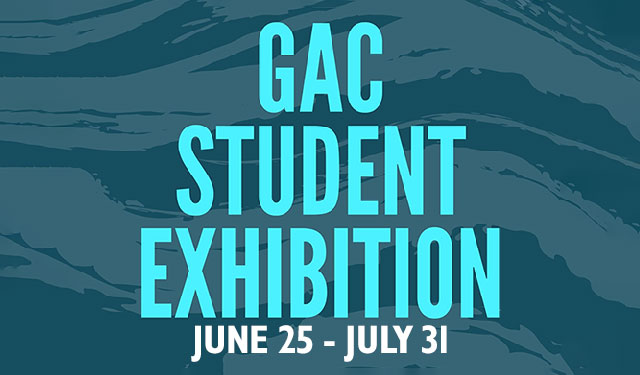 New art work by adult students at Guilford Art Center will be featured in the GAC Adult Student Exhibition in the Center's gallery, June 25 – July 31, 2021. The show will highlight recent work in all media by adult students who have taken classes or workshops at Guilford Art Center in the past two years. Students will provide reflection on how art helped them during the pandemic or was meaningful to them.
"This exhibition is an opportunity for Guilford Art Center to showcase the works our students have created in our classes that took place during the pandemic," says Executive Director Maureen Belden. "There are paintings and drawings, pottery, weaving, blacksmithing, jewelry, glass and more—works that demonstrate the variety of experiences and artistic perspectives of our students. We hope the community will be inspired by the way art helped our students in a great variety of ways during this unprecedented time."
• Preview the Exhibit (YouTube)
The Student Exhibition opens on Friday, June 25. Gallery hours are Wednesday-Friday 12-3pm, Saturday 10am-4pm. Gallery entry is free and open to the public.
For more information contact www.guilfordartcenter.org or 203-453-5947.
---
---
About Guilford Art Center
The Guilford Art Center is a non-profit school, shop and gallery established to nurture and support excellence in the arts. Through classes for adults and children, gallery programs, a shop of contemporary crafts, and special events, the Center fulfills its mission to provide opportunities for the public to participate in the arts, to experience their cultural and historical diversity, and to appreciate the process and product of creative work. It receives support from the Connecticut Dept. of Economic and Community Development. Founded in 1967 (as the Guilford Handcraft Center), the Center evolved from the first Handcraft Expo, held on the Guilford Green in 1957. It currently serves over 2,000 students in classes, presents juried and invitational exhibits of art in the Center's gallery and operates a shop of fine, handmade American crafts year-round. The Center also presents the Craft Expo, held on the Guilford Green each year in July, that features works by more than 180 of the country's most distinguished artisans and is a much-anticipated annual event for the shoreline community.