Gallery Exhibition featuring Work of Resident Potter, Monica Hewryk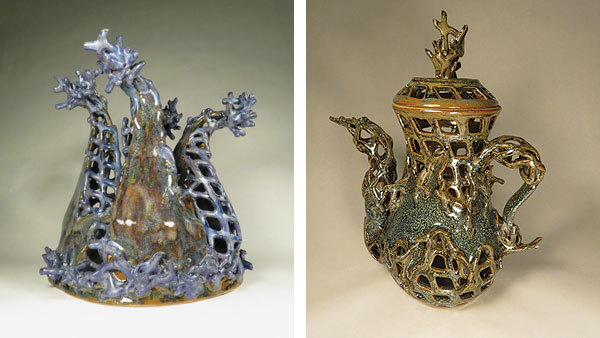 Works on view are culmination of ceramics residency.
Guilford Art Center is pleased to announce an exhibition of the ceramic work of Monica Hewryk, the Center's Resident Potter since September 2016. The exhibition is on view in the gallery August 16 – September 3, with an opening reception on Friday, August 18 from 5-7 pm. The reception is free and open to the public. The gallery is also free and open to the public 7 days a week (Monday – Saturday 10am-4pm, Sunday 12-4pm).
Hewryk creates mainly sculptural works. Her style is an amalgamation of her fascination with pushing the boundaries of construction, adding interesting textures, and throwing in a bit of whimsy. She describes her work as "exploring the irony of pottery and playing with ideas potters would normally avoid, like creating a mug that would never hold water. I try to accentuate these ironies in different recognizable forms, using a lot of color and movement."
She has been the second person to serve in the Resident Potter position, and this exhibition is the culmination of her work during her time at the Center. In her capacity, Hewryk has been responsible for working with pottery students, overseeing the facility's studio practice times, and providing inspiration through her presence and her own creativity. The position is designed to provide the Resident with time and space to develop their own ceramic art while contributing to the workings of a communal pottery studio.
Hewryk received her Bachelor of Arts from Central Connecticut State University, with a focus on ceramics, in 2014.
"This residency has given me the opportunity to be involved in an artistic community and environment where I can share my passion for clay with others," says Hewryk. "I've gained so much information from every experience and everyone I've met at GAC. It's a wonderful place to be inspired and to inspire others."
GAC's ceramics studio offers classes for adults and children, Home School programs, weekend workshops, and summer classes for children. The studio is equipped with 12 wheels, a hand building table, 3 electric kilns, slab roller, extruder, outdoor downdraft gas kiln, raku kiln, and a glaze mixing room. Students may work with four different clay bodies, and a large selection of glazes.
For more information contact the Guilford Art Center at 203-453-5947.