Guilford Art Center announces "Call for Entry" for Craft Expo 2020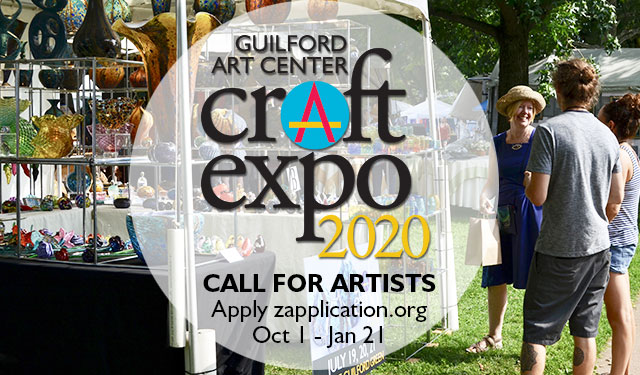 Exhibition dates: July 17, 18, 19, 2020
Application deadline: January 21, 2020
Late Entry: January 23, 2020
• Click here for a complete prospectus and application
• Click here for additional details about Craft Expo
Craft Expo 2020, held on the historic Guilford Green, is Connecticut's premier outdoor show of fine American craft. Now in its 63rd year, Craft Expo is one of the top-ranked and longest-running craft shows in the Northeast. Ranked by Sunshine Artist as a top 200 Best Shows in America.
Craft Expo showcases high quality works from over 180 artists who travel in from across the country. Works are presented in a range of media, including clay, fiber, glass, jewelry, leather, metal, mixed media, paper, printing, photography, sculpture, and wood. The event features an emerging artist tent, live music, gourmet food trucks, beer garden, creative activities for families, live demonstrations, a silent auction of artist donated work, a Guilford Art Center student art tent and more. Craft Expo takes place in the historic town of Guilford, CT, located half-way between Boston and New York. Guilford is best known for its picturesque town green and access to shoreline points, making it a popular summertime destination. Craft Expo is a much-anticipated annual event, attended by over 7,000 residents and visitors who are educated, knowledgeable and strong supporters of fine craft, artists and makers.
The show is organized and promoted by Guilford Art Center, a non-profit school, shop and gallery serving the shoreline community for over 50 years. It conducts extensive marketing and advertising campaigns for the show, reaching out to audiences across the Northeast.
Emerging Artist Opportunity. Apply to become part of Craft Expo Emerging Artist program. Acceptance into our show will provide a pathway for emerging artists into a competitive fine craft show. EmergingArtists2020 for more information and eligibility. Application and booth fees have been reduced.
---
JURORS 2020
Kimberly Winkle – is a maker who creates using wood and paint; She has exhibited nationally and internationally. Winkle is an Associate Professor of Art and Director of the School of Art, Craft & Design at Tennessee Technological University. She holds a Bachelor of Fine Art in Ceramics from the University of Oklahoma and a Master of Fine Art in Furniture Design from San Diego State University.
Rod Mccormick – is a metalsmith, sculptor, and jeweler and is a professor in the Craft and Materials studies program at the University of the Arts in Philadelphia, Pennsylvania.
Jodi Colella – exhibits and teaches internationally. She uses needlework to infuse renewed power to craft practices. She is the founder of the fiber study group Fiber lab. She is a member of the Boston Sculptors Gallery and a recipient of a 2019 Massachusetts Cultural Council Fellowship Award for sculpture.
---
ARTIST INFORMATION
All work must be original and made in North America. Applicants must supply 5 digital files of their work along with a completed application for consideration. New artists are encouraged to apply.
---
APPLICATION DEADLINE: January 21, 2020, $40 application fee
January 23, 2020 $60 late application fee
Please contact Dawn Tiscia at the Guilford Art Center for additional questions. Phone: (203) 453-5947 ext. 207. Email: expo@guilfordartcenter.org
---
The Guilford Art Center is a non-profit school, shop and gallery established to nurture and support excellence in the arts. Through classes for adults and children, gallery programs, a shop of contemporary crafts, and special events, the Center fulfills its mission to provide opportunities for the public to participate in the arts, to experience their cultural and historical diversity, and to appreciate the process and product of creative work. Founded in 1967 (as the Guilford Handcraft Center), the Center evolved from the first Handcraft Expo, held on the Guilford Green in 1957. It currently serves over 2,000 students in classes, presents juried and invitational exhibits of art in the Center's gallery and operates a shop of fine, handmade American crafts year-round. The Center also presents the Craft Expo, held on the Guilford Green each year in July, that features works by more than 180 of the country's most distinguished artisans and is a much-anticipated annual event for the shoreline community.