High School Invitational Exhibition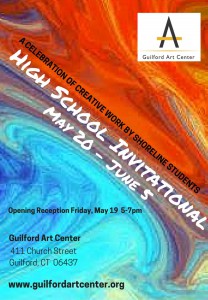 Guilford Art Center announces its High School Invitational Exhibition from May 19-June 5 at the Guilford Art Center gallery. The opening reception will be Thursday, May 19 from 5-7pm.
This exhibition celebrates the creativity of young artists in all media. It features work from high school students around the Connecticut shoreline.
"There is a wealth of talent here on the shoreline supported by strong art programs in our high schools. We want to give our young, local artists a platform in which to share their creative work with the shoreline community", says GAC Executive Director, Maureen Belden.
High school students are encouraged to deliver up to two pieces of artwork on May 16, between 10am – 4 pm. Guilford Art Center is located at 411 Church Street, off Exit 58 on I-95.
For more information contact Guilford Art Center at 203-453-5947.
The Guilford Art Center is a non-profit school, shop and gallery established to nurture and support excellence in the arts. Through classes for adults and children, gallery programs, a shop of contemporary crafts, and special events, the Center fulfills its mission to provide opportunities for the public to participate in the arts, to experience their cultural and historical diversity, and to appreciate the process and product of creative work. Founded in 1967 (as the Guilford Handcraft Center), the Center evolved from the first Handcraft Expo, held on the Guilford Green in 1957. It currently serves over 2,000 students in classes, presents juried and invitational exhibits of art in the Center's gallery and operates a shop of fine, handmade American crafts year-round. The Center also presents the Craft Expo, held on the Guilford Green each year in July, that features works by more than 180 of the country's most distinguished artisans and is a much-anticipated annual event for the shoreline community.