Like Craft Expo? You'll love Guilford Art Center's annual HOLIDAY SHOP, which is open through the holidays. The shop space is doubled in size and filled with extraordinary work from over 200 American artists, makers and designers. Gift categories include ceramics, pottery, glass, jewelry, homewares, clothing, fiber, ornaments, accessories, toys, specialty foods, stationery, leather goods and more.
OPEN 7 DAYS A WEEK
Monday-Saturday, 10:00am-5:30pm
Sunday 12:00 – 5:00 pm
GAC Members receive 10% off all purchases year-round.
November Classes & Workshops
PMC RINGS & MORE
Saturday, November 13, 10:00 am – 4:00 pm
Students will learn several ring forming techniques using PMC-3, including use of slip syringe, how to set synthetic stones for firing in PMC, and the making of cold-molds. Students should complete at least 2-3 rings.
Register.
PAPER QUILLING FOR THE HOLIDAYS WORKSHOP
Saturday, November 13, 1:00pm-5:00pm
Instructor: Lynn Sheft
Create special holiday greeting cards, ornaments and gift tags with paper quilling. It's an art form that employs strips of paper wrapped around a quilling tool and pressed into various shapes. You may also create pictures that can be frames or adorn keepsake boxes. Register.
NEEDLE BOOK/TREASURE BOOK WORKSHOP
Sunday, November 14, 12:00pm-4:00pm
Instructor: Claudia Mathison
Explore embroidery and mark making stitches to embellish a fabric book to hold momentos and/or sewing items. A variety of fabric, notions, papers and beads will be provided although students are welcome to bring treasures as well. No sewing experience needed. Register.
THE ART OF THE JAPANESE BLADE WORKSHOP
Thursday – Monday, November 18-22
10:00am-5:00pm
Instructor: Mace Vitale
In this 5-day intensive, students will learn to forge a traditional Japanese tanto blade. The blades will be ground and filed. Heat treat will be done with a clay coating to create the "Hamon" or hardening line. Blade will be polished and etched to reveal its true beauty. Register.
ABSTRACTING THE FIGURE WORKSHOP (ONLINE)
Saturday, November 20, 10:00pm-1:00pm
Instructor: Shilo Ratner
This online workshop examines the figure and how to paint it in the abstract. Some understanding of anatomy may be helpful but not a requirement. Proportions and measuring will be demonstrated as a reference for students to develop their own interpretations of abstracting the figure on canvas. Register.
FIREPLACE TOOLS WORKSHOP
Saturday-Sunday, November 27-28, 10:00am-4:00pm
Instructor: Greg AmEnde
This weekend class will cover the making of a set of fire place tools (poker, brush, ash shovel). You will learn the basics of blacksmithing, including tapering (drawing out), forge welding, bending, riveting and setting down. Register.
Give a Learning Experience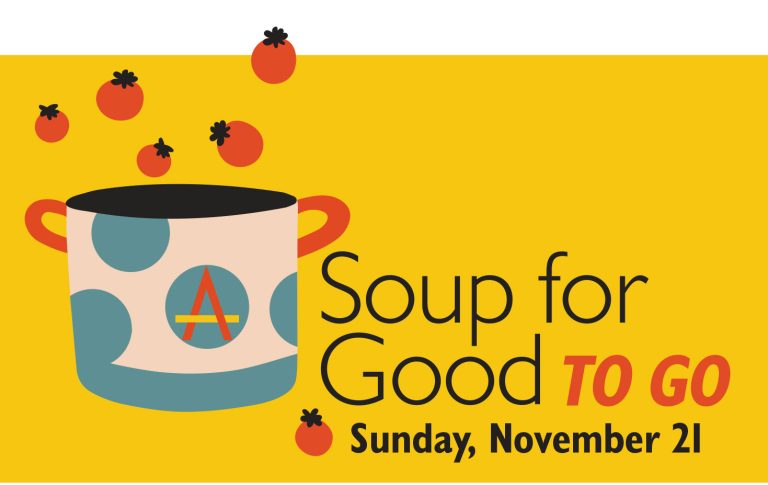 Support Two Guilford Non-Profits with 1 Ticket
All soup tickets are gone, but you can still support our Soup for Good event by purchasing a $40 ticket and be entered into drawings for prizes, plus a 15% shop coupon and event recipe booklet. All proceeds from this event provides crucial support for Guilford
Art
Center
and the Guilford Food Bank. We are so appreciative of your donations that enable us to provide quality arts programming year-round, plus benefit the good works of our friends at the Food Bank.

Thank you to all of our Business Sponsors
Prospector Partners · Yale New Haven Health
Eder Brothers · Page Hardware & Appliance · The Stone Agency
Bailey Scarano · CK Architects · East River Energy · Kebabian's ·
Ladd Capital Management · Monte Financial Group · Shoreline Financial Advisors ·
William Pitt Sotheby's International Realty