IMAGES 2016 – 35th Annual Juried Photography Competition & Exhibition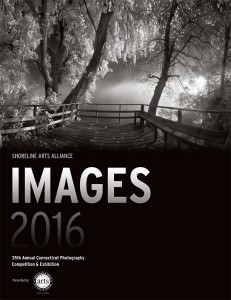 The Shoreline Arts Alliance will be accepting submissions for the 35th annual IMAGES photography competition and exhibition, March 11, 12, and 13 at the Mill Gallery of the Guilford Art Center, 411 Church Street, Guilford, CT. IMAGES 2016 celebrates the art of photography in its many aspects, formats and technologies and encourages excellence among photographic artists. IMAGES is the oldest annual, statewide, juried competition and exhibition open to all Connecticut photographers. Photographers with a passion and dedication to photography as an art form are invited to submit work for consideration by a distinguished panel of professionals. Judges for this annual competition bring varying areas of expertise to the review process and have included educators, curators, photographic artists, critics, and gallery owners. Submissions will be accepted at the Mill Gallery of the Guilford Art Center on Friday, March 11, 4-7pm; Saturday and Sunday, March 12 & 13 from 10am – 4pm.
The jurying process will take place on Monday, March 14 and jurors for this year's competition are: Robert Calafiore, Assistant Dean-Hartford Art School @ University of Hartford, West Hartford, CT; Frances Jakubek, Associate Director @ Griffin Museum of Photography, Winchester, MA: and Paul Stetzer, President – SoHo Photo Gallery, New York, NY.
The featured photograph for IMAGES 2016 poster is titled Dawn Light by Thomas Wells of East Hampton. Shoreline Arts Alliance thanks Yale-New Haven Hospital, Milford Photo and the Connecticut Office of the Arts for their continued support of this program and to Graphic Designers, Chris Hyde and Lane Cooper of Cipher Creative Group in Berlin, CT who have generously donated the design of the 2016 poster and promotional materials.
For information, Call for Entry guidelines and submission forms are available on-line at www.shorelinearts.org or contact the Shoreline Arts Alliance office at 203.453.3890 or donita@shorelinearts.org.