New Collaboration with Guilford Public Schools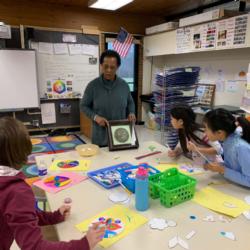 GAC is collaborating with Guilford Public Schools on an Artist-in-Residence program with the elementary schools, led by GAC youth program instructor Renee Soares.
Soares is a mixed-media visual artist, educator, and curator whose extraordinary beaded masks have been exhibited throughout the Northeast. She will be working with the elementary art teachers.
Soares spent a week each in January at A.W. Cox & Guilford Lakes schools exploring mandalas, looking at this circle-based art form from a global perspective. At Calvin Leete and Melissa Jones schools, the project will be coordinated with African American History Month in February. Students will explore the Adinkra, the pictorial alphabet of the Asante of West Africa.
This collaboration is a wonderful opportunity for GAC to work directly in our local school district, impacting students and gaining awareness for GAC's high quality instruction and programming. We're grateful to Renee for representing us!
---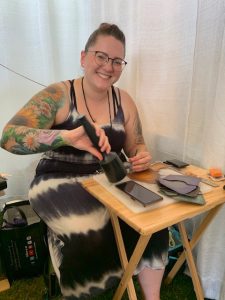 Craft Expo 2020 Offers Emerging Artist Category
Are you an emerging artist interested in participating in Craft Expo 2020? We've created a category for these new artists who demonstrate excellence in their work and are seeking an opportunity to show in an established marketplace at a reduced rate.
This program will offer Emerging Artists opportunities to build their customer base, establish relationships with fellow craftsmen, and provide a pathway into Guilford Art Centers' established competitive fine arts craft show.
• Click here for more information.
---
FINAL DEADLINE FOR ALL CRAFT EXPO APPLICATIONS – JANUARY 23!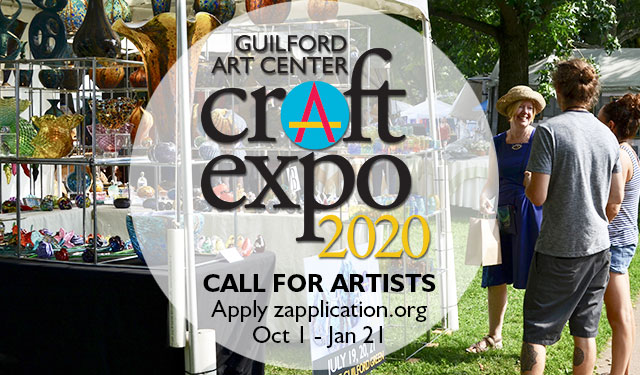 ---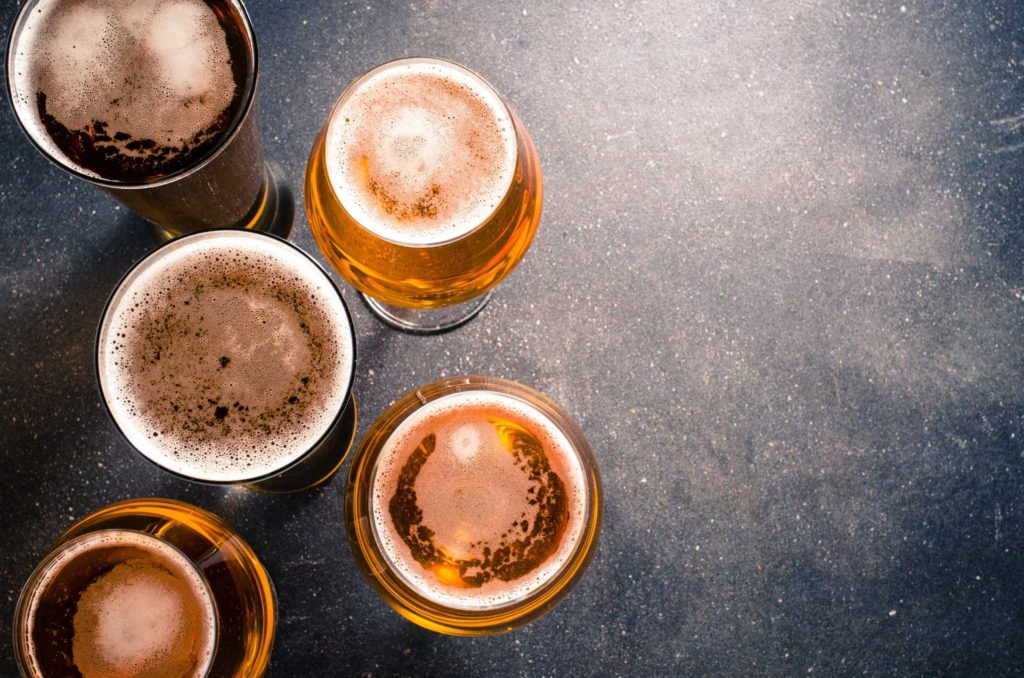 "Liquid Art": A Gallery/Cocktail Party at GAC
Friday, March 6, 6-8:30 pm featuring CT breweries, cideries & distilleries
Raise your spirits – and support the arts – at GAC's cool (and warm!) mid-winter party, Liquid Art. We're celebrating the art of CT's breweries, cideries, and distilleries. Come sample small batch libations, including Deep River Distillery of Chester, Spoke + Spy Ciderworks of Middletown and Stewards of the Land Brewery, of Northford (more to be announced soon!). Enjoy fabulous bar bites, live music, silent auction, and GAC student art exhibition. Tickets $35 in advance: $40 at the door. Purchase tickets here.
---
Summer Youth Program Coordinator Needed
GAC seeks a coordinator to help steward our summer youth program. This is an ideal professional opportunity for a college student, recent graduate, or high school upperclassman with an interest in art, education, or a related field, and a chance to spend the summer working with kids in a creative environment.
This part-time, paid position runs for 8 weeks: June 29-August 21, 2020, 5 days a week, Monday-Friday, 8:30-1:30pm, with possible additional planning time before these dates.
For more details, and to apply for the position, please send a note of interest and resume to lwolkow@guilfordartcenter.org. No phone calls please.
---
January & February Workshops
BLACKSMITHING
Feb 1-2 Introduction to the Hand Forged Blade
Feb 15-16 The War Hammer
Feb 22-24 Tongs, T-Tongs, Tongs!
Feb 29-Mar 1 Forging a Ladle
CERAMICS
Jan 24 Friday Night Art: Pottery
Feb 14 Couples Pottery for Valentine's Day
DRAWING
Jan 25 Drawing for Intermediate – Advanced Students
FIBER
Jan 25-26 Block Printing on Papers and Textiles
Feb 15 Stitched Narratives
METALS
Feb 1 Intro to Sandcasting Techniques
Feb 16 Precious Metal Clay Rings & More
Feb 29 Making Flatware
PAINTING
Feb 22 Watercolor for Absolute Beginners
PHOTOGRAPHY
Feb 29 Photographing Artwork
SPECIAL INTEREST
Feb 1 Color Theory
Feb 2 Upcycled Vintage Button Brooch
Feb 23 Loosen Up! Mindful Movement & Intuitive Painting
YOUTH PROGRAMS
Jan 25 Dragon Puppets
Feb 8 Winter Snow Babies (ages 5+)
---