Instructor Profile: Claudia Mathison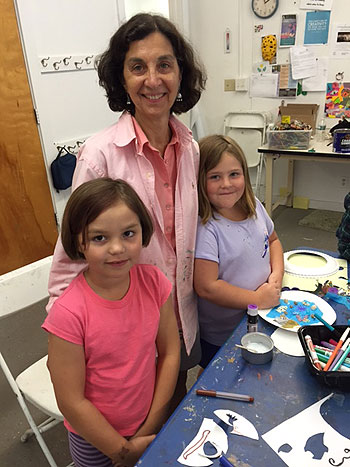 Claudia Mathison
Youth Classes
What inspires you?
I find inspiration everywhere…in nature's natural patterns and designs, graphic visuals in a big city, in small galleries and museums.
If you could try a different art medium, what would it be?
Lately I've been drawn to ceramics and would love to spend time "getting messy" experimenting with clay again.
If you were stranded on a desert island with an artist, who would it be?
Alexander Calder. His simple silver jewelry and fanciful miniature wire circus pieces are my favorites. I remember hearing a story about Calder showing up at his gallery installation with a ball of wire and proceed to create his sculptures on the spot. A kind, resourceful man who would do well on a deserted island!
Where is your favorite place to view art?
There are so many in our backyard to choose from…a few that come to mind are Lori Warner Studio and Gallery and Diana Varano Gallery in Chester, Denyse Schmidt Modern Quilt Studio in Bridgeport and the New Britain Museum of American Art.
Why is GAC special to you?
There are so many things that make GAC special…the faculty generously sharing their time and talents with each other, the relaxed, creative atmosphere where students of all ages can thrive, and an administration open to new ideas.