Jasmine Gonzalez, Resident Potter, Featured in Gallery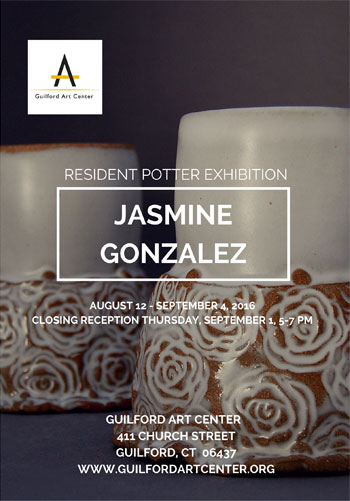 Works on View are Culmination of Ceramics Residency
Guilford Art Center is pleased to announce an exhibition of the ceramic works of Jasmine Gonzalez, the Center's Resident Potter since January, 2015. The exhibition is on view in the gallery August 12-September 4, 2016, with a closing reception on Thursday, September 1, 5-7pm.
Gonzalez creates a balance of functional pottery as well as more conceptual works. Her work's inspiration flows from the relationships she's created with the colorful people she meets as well as the natural environments we inhabit personally and communally. She is using both high fire and low fire clay in electric and atmospheric firing processes at Guilford Art Center as well as incorporating some other media such as wood, wire, sea shells, and plants to accentuate the ideas being portrayed in her upcoming solo show in early August.
Gonzalez received her Bachelor of Fine Arts from the University of Hartford, Hartford Art School in 2014, with a major in Ceramics and Sculpture and a minor in Art History. She has been the first person to serve in the newly-created Resident Potter position, and this exhibition is the culmination of her work during her time at the Center. In her capacity, Gonzalez has been responsible for working with pottery students, overseeing the facility's studio practice times, and providing inspiration through her presence and her own creativity. The position is designed to provide the Resident with time and space to develop their own ceramic art while contributing to the workings of a communal pottery studio.
Says Gonzalez: "Make every thing you touch like its the last thing you'll make…and make it for the whole world to see it!"
Jasmine Gonzalez: Resident Potter is on view August 12-September 4, 2016; Closing Reception on Thursday, September 1, 5-7pm, free and open to the public. Guilford Art Center Gallery and Shop hours are Monday-Saturday, 10am-4pm, Sunday 12-4pm.
For more information, please visit www.guilfordartcenter.org or call 203-453-5947.
---
The Guilford Art Center is a non-profit school, shop and gallery established to nurture and support excellence in the arts. Through classes for adults and children, gallery programs, a shop of contemporary crafts, and special events, the Center fulfills its mission to provide opportunities for the public to participate in the arts, to experience their cultural and historical diversity, and to appreciate the process and product of creative work. It receives support from the Connecticut Dept. of Economic and Community Development.