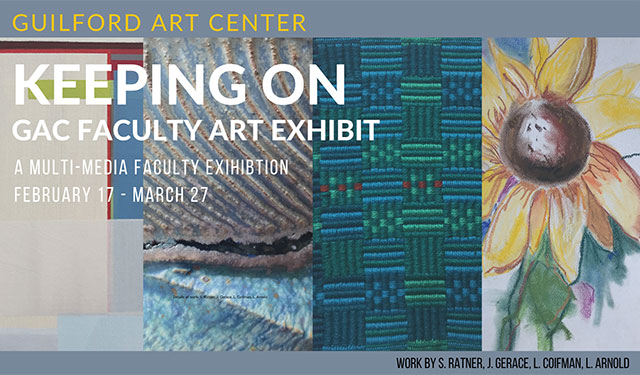 "Keeping On" shares how GAC instructors have engaged with their art to help them "keep on" during this time of the pandemic, or even how they have struggled, or changed creatively. Featured works include ceramics, painting, drawing, fiber art, metals, and sculpture by members of our 50 person faculty.

Here's a video tour of the exhibition to give you an overview. We'll also be sharing artist works and statements over the coming weeks. Stay tuned for more!
Marcy LaBella
Far Away, acrylic on canvas
$850
"During the pandemic I found that the forced seclusion and time away from teaching created the space I needed to deepen my own artistic practice. I was able to spend entire days immersed in process and I feel that I was able to grow as a result. While being separated from friends and loved ones has its challenges, the solitude that the pandemic has brought has also allowed me to deepen my work and growth as an artist."
---
Michael Lake
Saudade, brass, bronze, copper, wood, cast resin, sapphire
$4200
"This work contrasts the mechanical with the biological in a form of symbiosis. It brings the inside of the body outward and references both the familiar and the numinous. Temporal pasts and futures are inferred while existing solely in the present.
These tableaus present a haunting narrative stemming from my interest in the archaic word 'dwine' meaning to waste or pine away; languish. I draw from a wealth of past experiences and personal symbology emanating from an intense and vested interest in etymology and archaic human practices ranging from the spiritual and ritualistic to pseudo-medical tribulations."
---
Lisa Wolkow
Untitled, Porcelain
NFS
---
Julie Ryan
Wonder Wheel, oil paint on paper
$1,000
"The quarantine that began in March of 2020 was a trying time for all. After struggling with ways to manage my stress, I finally conceived this ambitious painting in an effort to "control the chaos" through art making. Tearing and arranging the strips of painted paper to create the support for this piece was an exciting creative challenge. This idea of pulling apart, yet coming together in a new way became the artistic metaphor that I built this work upon. The long, repetitive brush strokes required to paint each section of the Wonder Wheel became a relaxing and meditative process. The bright colors and warm sense of light evoke lighter times- a snapshot of a carefree summer day on the boardwalk at Coney Island. For me, this piece became a symbol of strength and hope through visual unity and persistence within the creative process."
---
Justin Gerace
Bottle With Grid, white stoneware
$85
"From March 2020 until July, I was not focused on making any ceramics at all. The pandemic was in full swing and making pottery seemed tone deaf at the time. I was struggling to balance wanting to be creative with the stresses of the virus and a new model of everyday life. I felt like I was in some sort of creative cage needing to break free. This work represents my breaking free, the glazes dominance over the gridded background structure."
---
The GAC gallery is open Wednesday – Friday, 12:00-4:00pm and Saturdays 10:00 am-4:00pm. The gallery is free and open to the community. Mask wearing and social distancing is required upon entry.
Click here
for more information