New Resident Potter Gives GAC a Spin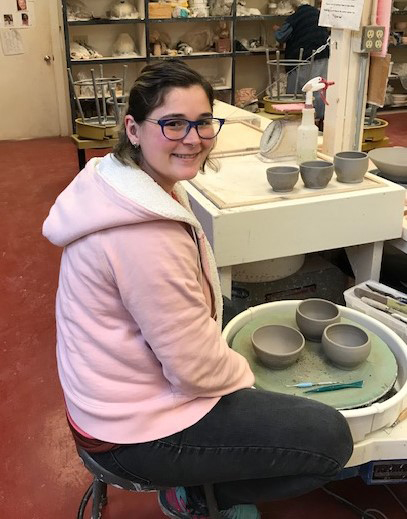 Guilford Art Center is pleased to announce its new Resident Potter, Megan Mayall. She is the fifth artist to serve in this position, during which she will be responsible for working with Guilford Art Center pottery students, as well as overseeing ceramics studio practice times.
Mayall is most interested in functional pottery, and is proficient in both throwing and hand building of ceramics. She graduated in May 2018, with a BFA in Ceramics from the Alfred University College of Art & Design. It is a wonderful opportunity for GAC students to work with a resident from this very prestigious program.
GAC's Resident Potter position is designed to provide the resident with time and space to develop their own art, while contributing to the workings of a communal pottery studio. Mayall's work will be also featured in an exhibition at the Center's gallery at the residency's completion in August 2020.
For more information contact Guilford Art Center at 203-453-5947.