Over 180 Established and Emerging Artists Converge on Guilford Green for Craft Expo 2019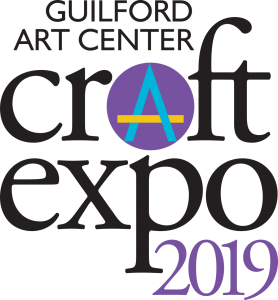 The Guilford Art Center is pleased to welcome over 180 nationally-recognized and emerging craft artists to the historic Guilford Green for Guilford Art Center's Craft Expo 2019. Held on July 19-21, this annual show is celebrating its' 62nd year as Connecticut's premier outdoor juried show of fine American craft. Artists from across the country will display and sell their fine craft in a variety of media, including Clay, Glass, Leather, Metal and Non-Metal Jewelry, Wearable and Non-Wearable Fiber, Metal, Mixed Media, Paper, Painting, Photography, Printmaking, Soap and Wood.
Craft Expo 2019 will feature a new "emerging artist" category this year. This category was established to provide access to a professional show for early-career artists, helping to grow their clientele and careers. Over 15 brand new emerging artists will exhibit at Craft Expo, injecting a fresh wave of talent across a multitude of craft mediums.
"We are excited to welcome all of our artists to Craft Expo, including our new emerging artists. They all exemplify such a high level of artistry and commitment to their craft. This year's Craft Expo will truly have something for everyone – from returning artists with a loyal following to new artists just breaking into the art show experience. It's a very exciting year for all audiences to visit the show and discover something new."
Additionally, there are other activities that will entertain attendees, including a Family Art Tent for young visitors, silent auction of exhibitor-donated work, live craft demonstrations by Guilford Art Center faculty and students, and sale of Guilford Art Center student work. Attendees can enjoy a snack or meal in the food truck area, which will also feature live musical entertainment throughout the weekend.
Craft Expo is the Guilford Art Center's single most important fundraiser, providing proceeds that support all of its educational and community programming. It is sponsored in part by Shore Publishing Newspapers.
Friday, July 19, 12 – 8:30pm
Saturday, July 20, 10am – 7pm
Sunday, July 21, 12 – 5pm
Open rain or shine. Admission: Adults $9, Seniors $7, GAC Members, children under 12, and active military Free. Multi-day pass $15.
For more information, visit www.facebook.com/guilfordartcenter, email expo@guilfordartcenter.org, or call (203) 453-5947.