This Just In!
Pledges & Donations made by November 1 are matched by CT CARES Act COVID Relief Fund for the Arts
This is the time of year when we send our annual appeal, which helps sustain the Center with operating support for all of our programming and facilities. Be on the lookout in your mailbox – either snail or email. Your support means more now than ever as we have been able to reopen our doors and serve our students and visitors. Thank you for helping us continue Creating Art & Community.
Here is an added incentive to give: All donations – even pledges – made before November 1st will help us in our application for a grant through the state of Connecticut CARES Act funding/COVID Relief Fund for the Arts. Matching funds are available for all contributions received from March 10 through November 1. Pledges need to be fulfilled before December 30.
It's short notice, but this funding just became available from the state, so we wanted to let you know right away! Please help support our work in the following ways:
Thank you for your support and being part of our GAC community!
---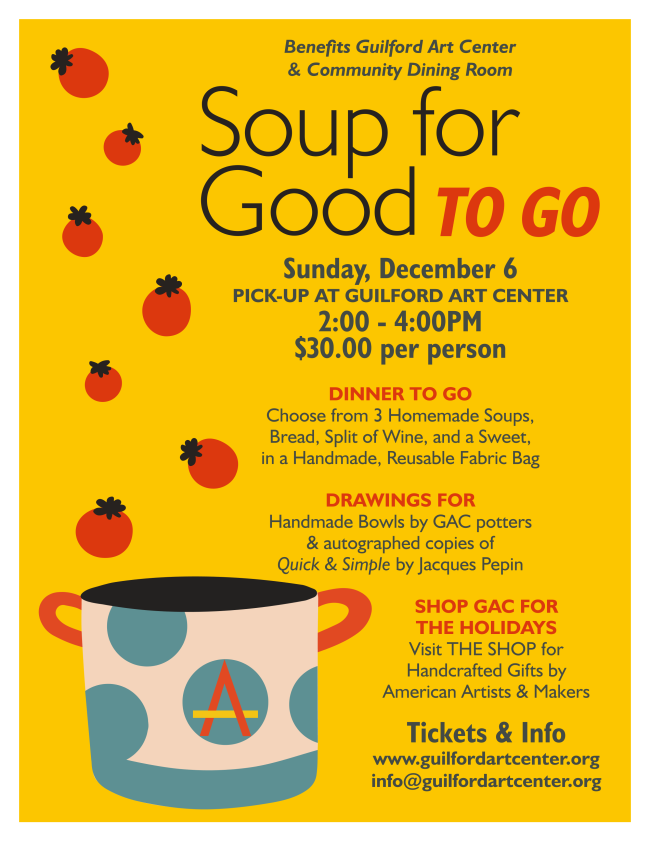 The Soup for Good To Go event is sold out! However, you can still give much-needed support to the Guilford Art Center and the Community Dining Room through an event donation. Click here!
---
Fall Workshops
2020 is filled with firsts, right? So how about trying your first workshop at GAC? It's a friendly and welcoming place with people of all experience and abilities. There is room FOR YOU! Click each linked workshop to see more detail and to register.
BLACKSMITHING
PAINTING
SPECIAL INTEREST
Ages 5+
All Ages
---
Shop for the Holidays at GAC
We've opened
our shop
early this year to give everyone a head-start on holiday shopping. Come see our shop and gallery space filled with work by over 200 American artists. We're offering a safe shopping experience, but with all of the warm customer service you'd expect.
All
GAC members
receive 10% off all purchases – all year long!!
Shopping Hours:
Wednesday, Thursday & Friday 12:00 – 4:00 pm
Saturday 10:00 am – 4:00 pm


---
Thank you to our Business Sponsors
Prospector Partners · Yale New Haven Health
Madison Polymeric Engineering
Eder Brothers · GSB Savings Bank ·Monte Financial Group
Page Hardware & Appliance
Bailey Scarano · CK Architects · East River Energy ·
Ella Where She Shops · Kebabian's Oriental Rugs · Ladd Capital Management · Shoreline Financial Advisors · William Pitt Sotheby's International Realty
---
Contacting GAC
Our office staff continue to work from home. The best way to contact us via email at info@guilfordartcenter.org (our staff directory is listed here) or to leave a message on the office phone (203) 453-5947. We check it regularly and will get back to you. If you are looking for your Zoom class information, please check your registration confirmation. It is listed there and the login codes remain consistent throughout the semester.