Profile: DeeDee Hakun
She's setting up Artistry…and the gallery…she's a former board member…sculptor…and a ceramic studio apprenctice too!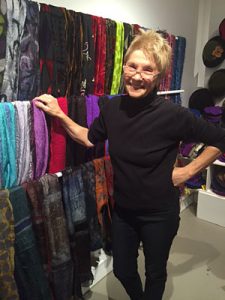 If you've spent any time at GAC, then it's likely you've seen DeeDee with either clay or a drill in her hands! She currently serves as a ceramic studio apprentice, as well as a true "behind-the-scenes" force in getting Artistry and all of the GAC gallery shows set-up and ready for public viewing.
After spending her career in retailing at the May Dept Store company, DeeDee retired and moved from NYC to Stony Creek in 1992. She found GAC and took her first class at the potter's wheel. After "failing miserably," she discovered a real passion and talent for hand building with clay. Since then, she's run her own studio (Stony Creek Ceramics) and shown her work in various exhibitions.
DeeDee believes the vast programming offered by GAC…ceramics, blacksmithing, painting, jewelry-making, sewing, etc.…make it a truly unique place on the shoreline. "This is a place where adults can come and play in a wonderful environment. Doing this kind of work really sets you free."
Come by and see DeeDee's skills at work in the gallery as she helps the team present Artistry. They've completely transformed the gallery for the holidays!