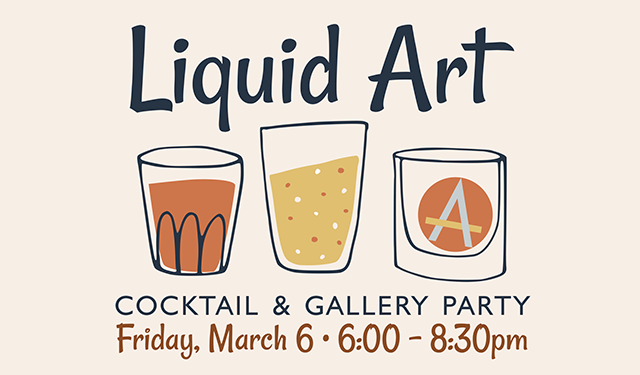 Raise your spirits (and support the arts) during these cold and gray months at Guilford Art Center's cool (and warm!) mid-winter party, Liquid Art, on Friday, March 6, 6:00 – 8:30pm in the GAC gallery.
Liquid Art features tastings of creative craft beverages from some of CT's newest breweries, cideries and distilleries. There will also be fabulous bar bites, live music, a silent auction [and blacksmithing demonstrations in the forge]. The GAC Student Exhibition will be on view in the gallery, creating a lively and gorgeous setting for the gathering.
Creative masters in their own field, the event's vendors will be offering their small batch libations, allowing guests to sample a range of artisanal spirits being created in Connecticut. Wine and non-alcoholic beverages also will be available.
Participants to date include:
Deep River Distillery, Chester
Fifth State Distillery, Bridgeport
Owls Brew Boozy Tea. Beacon Falls
Rose Vineyards & Winery, North Branford, CT
Spoke + Spy Ciderworks, Middletown
Stewards of the Land Brewery, Northford
Thimble Island Brewery, Branford
"This time of year gets a little dreary, so why not come out for a relaxed social event that supports the arts in our community? We're looking forward to meeting some of the newer craft breweries and distilleries that have opened in CT. This event is a fun evening for our community that allows people to enjoy some great drink, food, live music and exhibits, while supporting the arts" says Guilford Art Center Executive Director, Maureen Belden.
Reservations are $35 per person in advance; $40 at the door, with proceeds to benefit Guilford Art Center's educational and community programs. Reservations are limited; call to make a reservation: 203-453-5947 or pay for reservations now:

For more information contact Guilford Art Center at 203-453-5947.