Make Sure To Register for Upcoming Free Zoom Sessions
We have a bunch of new free online sessions in the next two weeks (before our summer semester begins). They're open to everyone – and free (except for one). But, we're now asking everyone to register for them in advance. Don't worry – it's painless. We promise. Just click the links below each session and you'll be on your way.
---
---
---
---
---
---
---
Summer Semester Announcement on June 15
Registration for all youth and adult summer online workshop and classes will open June 15. Check our website to see all the details on descriptions, costs and dates. The semester will begin July 6.
---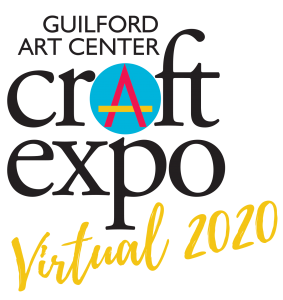 Craft Expo Goes Virtual
We're planning a virtual expo online event July 17-19 with the 2020 artists. However, you can see a lot of event and artist information now by following our Expo Facebook and Instagram pages. There are daily postings with lots of fun trivia, promotions and history of this iconic event.
---
Find Gifts at The Shop
Although our doors remain closed, you can still shop! Check out our online shopping page here, or follow us on Facebook or Instagram to see all of the new items posted each week. Contact ealbergo@guilfordartcenter.org for more information and to arrange for purchase.
---
Please Support Ongoing Activities We are providing free interactive sessions while we are shut down. This allows us to provide instructors some financial support, as well as remaining connected to you, our community. If you're able, please donate to this effort so that we can continue to make art together. Thank you! PS – you can see all of our online offerings here.