Registration Open for Guilford Art Center Winter Semester 2020 Classes & Workshops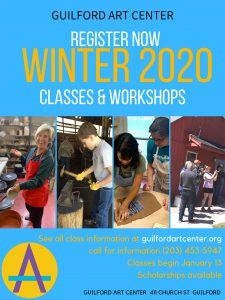 Registration is now open for Winter 2020 classes and workshops at Guilford Art Center. Classes are offered for youth, teens and adults. The winter semester runs from January 13 – March 6, 2020.
Art classes and workshops are offered in a range of mediums, including blacksmithing, bladesmithing, beading, book arts, calligraphy, ceramics, collage, glass beads, stained glass, metalsmithing, drawing, fiber, painting, photography, sculpture, silkscreening, weaving and more.
Children's art classes and workshops are open to youth ages 5 years and older. Children's classes include mixed media, painting and drawing, clay, puppets, American Girl dolls, sewing, quilting, contemporary art and more.
Teen classes (open to ages 13 and older) include a Portfolio Building class and Blacksmithing class.
GAC also offers a Unified Arts class (ages 6+) and a pottery class for home schoolers (ages 10-18).
Full listings of all classes can be found on the GAC website, here. Students can register online or by calling the GAC office at (203) 453-5947. Printed catalogs for adult and youth programs are also available. Registration is open throughout the entire semester.
Financial aid is available. Applications are due January 6, 2020 and can be found at the GAC website.
For more information contact Guilford Art Center at info@guilfordartcenter.org or call (203) 453-5947.