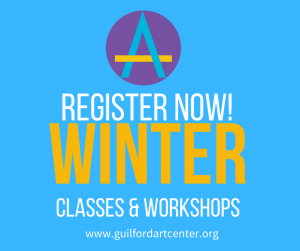 WINTER SEMESTER BEGINS NEXT WEEK
New Year = New Opportunities for a Creative YOU
It's time to try that class or workshop you've always thought about – and there's no time like the present to register! The new semester begins Jan. 13.
There is something for every level and interest:
Blacksmithing, Book Arts, Calligraphy, Ceramics, Drawing, Fiber, Glass, Metals, Painting, Photography Silkscreening, Sculpture, Weaving and Writing – plus lots of kids classes. Click here to see our catalog and register.
---
NEW SILKSCREEN PRINTING CLASSES OFFERED
Interested in learning silkscreen printing? We have two classes running this winter semester with instructor Jonathan Weekes, beginning next week. Open to all levels; register now!
Exploring Silkscreen Printing Andy Warhol Style
4 Thursdays beginning Jan 16 6:30-9:30pm
Use the silkscreen printing process to emulate and explore the print styles of Andy Warhol.
More info & register
Exploring Silkscreen Printing for Fabric Patterns
4 Thursdays beginning Feb 13, 6:30-9:30pm
Create original and unique patters printed on fabrics.
More info & register
---
THE GALLERY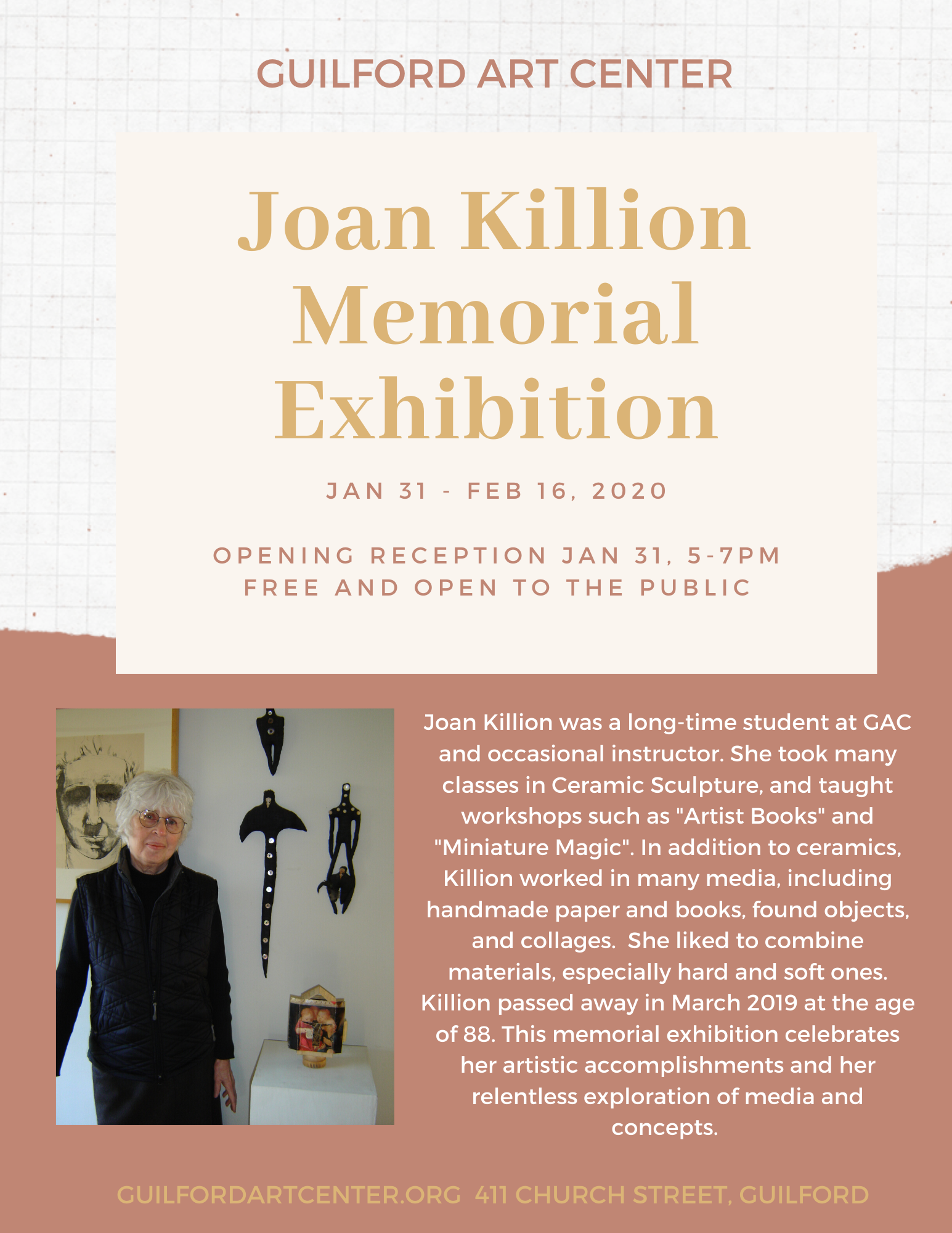 ---
THE SHOP IS OPEN

Thanks to all who shopped in our Holiday Shop this season. Every purchase helped to support American artists and GAC's outreach programming (not to mention creating some happy gift recipients!). The Shop now returns to it's "normal" size and remains open year-round. Come in for to find gifts for birthdays, weddings, anniversaries – or something special for yourself!
2020 SHOP HOURS
Monday – Friday 9:00am-5:00pm
Saturday 10:00 am – 4:00 pm
Sunday 12:00 – 4:00 pm
---
CALL FOR ARTISTS
Craft Expo 2020
Show dates: July 17-19
Entry date: January 23
Click here for more info and ZAPP application
New Glass, Northeast
Show Dates: March 13-April 5
Entry Date: January 27, 2020
Click here for more info and CFE download
GAC Adult Student Exhibit 2020
Show dates: Feb 21 – March 6
Receiving dates: Feb 13-14
Click here for more info and CFE download
Fiber Forward 2020: biennial exhibition
Show Dates: June 12 – July 19, 2020
Entry Date: April 24, 2020
Click here for more info and CFE download
---
HAVE YOU SEEN THE EGG?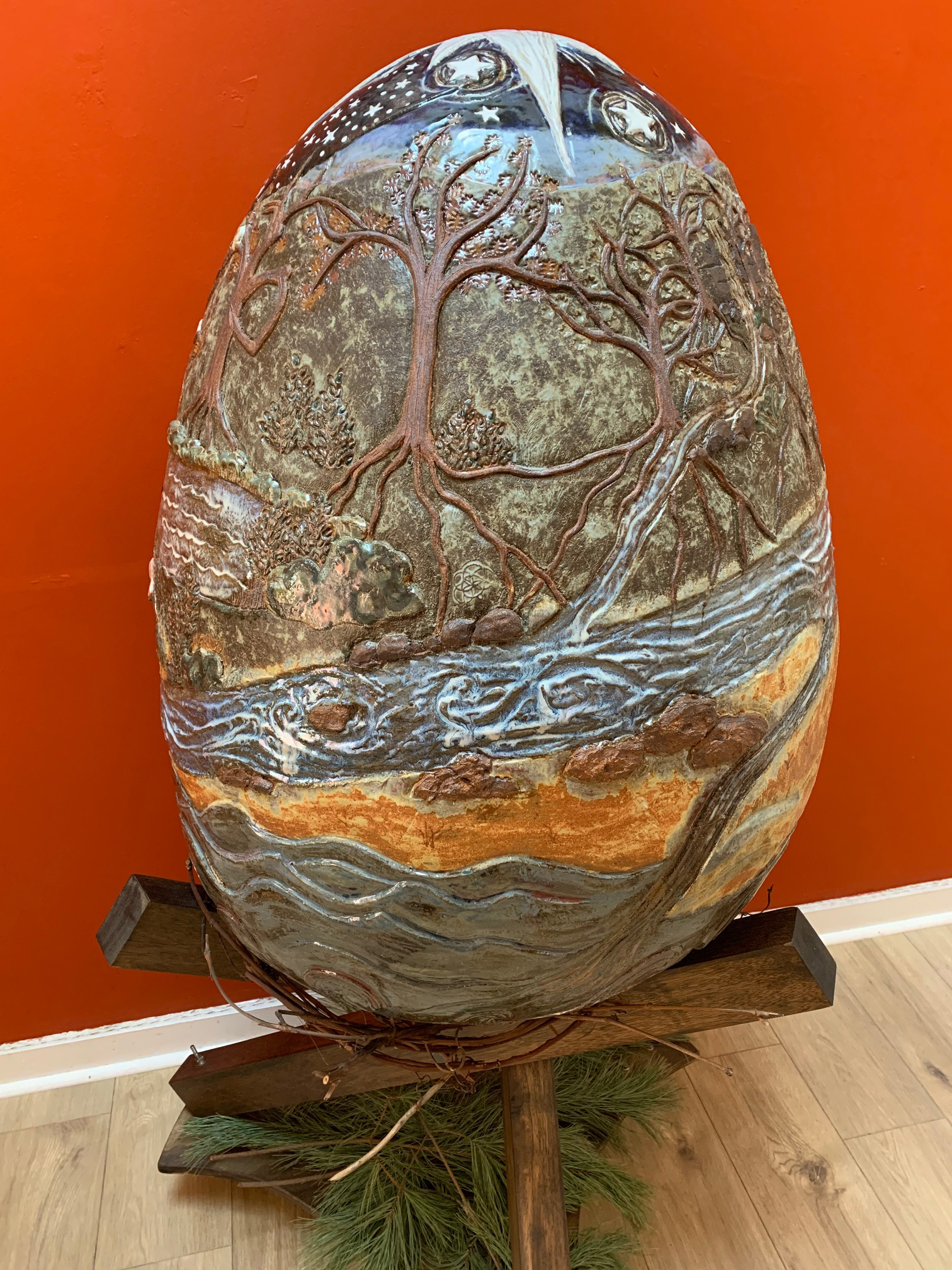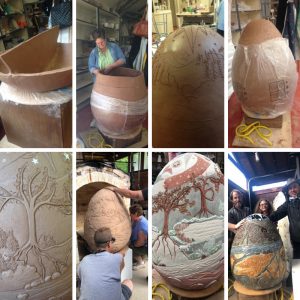 Enter our lobby outside The Shop and you'll find a magnificent 3 ft tall ceramic egg. Created by GAC pottery studio assistant Sue Doolittle, it is a two year-long creative endeavor. It's a technical and artistic feat to behold!
"The Egg" is a culmination of pulling together many ideas that I have been working on for years. I love the Egg shape with its perfect curves and symmetry. I grew up in nature and the scenes carved on the egg represent places I have loved. I have been carving clay for about 7 years and went from flat tile scenes to carving on thrown vessels. I've also made many eggs in clay from small to large. It was a natural progression to carve an egg. And then I thought " a giant egg"! My teachers/ mentors at GAC have inspired me to grow and added to my skills so that I could do this. "The Egg" has been a great challenge for me. What's next? The Egg is made from a high grogg stoneware clay and fired to come 10/11. It took about 2 years to make and weighs about 165-175 lbs. My husband Dennis made the stand."
– Sue Doolittle
---
UPCOMING EVENTS

Jan 13 – Winter Semester Begins
Jan 31 – Opening Reception: Joan Killion Memorial Exhibition
Feb 21 – Opening Reception: GAC Adult Student Show
March 13 – Opening Reception: Northeast Glass Juried Exhibition