Student Profile: Julia Joslin
Julia Joslin (and Rocky!)
Class: "Painting Studio"
Thursdays from 9:30am – 12:30am with Instructor Julia Rogoff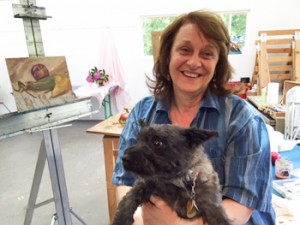 Julia is originally from Westerly, RI. After taking her first painting class with GAC instructor Julia Rogoff, she fell in love with the shoreline as well as the art scene at GAC and moved to Guilford.
Art is a "heart thing", says Julia. "It makes me happy. When I put paint to canvas, the way it makes me feel is beyond words. It just makes me happy."
Julia paints mostly still life compositions at this point. She is learning about color and how to mix color. Her dog Rocky is a welcome (and very well-behaved) guest to the GAC art studio and has developed a keen eye for beautiful paintings.