The Artists of Gallery One & Friends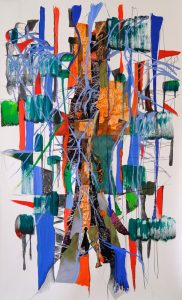 The Artists of Gallery One & Friends return with an exhibition at THE GALLERY at Guilford Art Center from Sunday, April 29 to Sunday, May 20. There is an opening reception on Friday, May 4 from 5-7pm; and a closing reception with a performance by The Wild Angels dance troupe on Sunday, May 20 from 2-4pm.
Member artists include Ashby Carlisle, Catherine Christiano, Ellen Gaube, Bryan Gorneau, Deborah Hornbake, Gray Jacobik, Judith Barbour Osborne, T. Willie Raney, Diana Rogers, Rick Silberberg, and Jill Vaughn. Invited artists include Forrest Bailey, Victor Filepp, Charlotte Hedlund and Susan Hickman.
Gallery hours are Mon-Fri 9:30am – 4:30pm, Sat 10am – 4pm, Sun 12 – 4pm. For more info, call 860-575-9113 or visit galleryoneCT.com.