Thinking Outside the Box, Sandcasting, Men's Shopping Night
Think Outside the Box
For hard-to-shop-for friends or people who don't want more stuff, giving the gift of EXPERIENCE is ideal.
How about a class in painting, sculpting, drawing or ceramics? Perhaps try swinging a hammer in the blacksmith forge? Or finally learning how to use a digital camera to create really amazing photos?
Purchase a gift certificate for the school in any denomination. Best of all, they never expire! So you can wait for just the right class or workshop that fits your interest and schedule. Click here for more information and to purchase.
---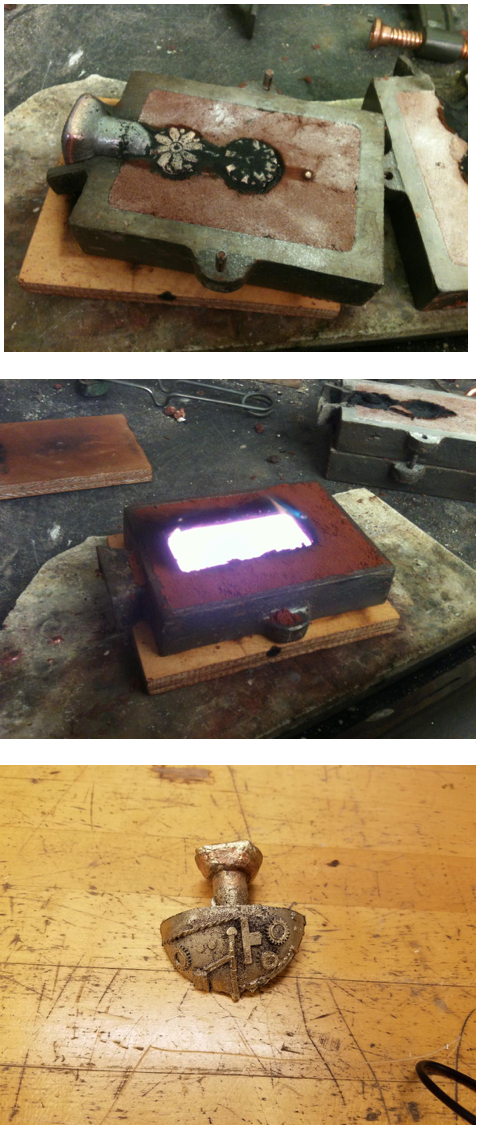 Have you tried Sandcasting?
New Workshop on February 1, 10am-4pm
In this unique introductory workshop, students will learn the basics of small-scale sandcasting. Sandcasting is an ancient art that uses a steel frame packed with sand that becomes the receptacle for molten metal. Students will learn to pack two-part sand molds, develop proper spruing technique, and manipulate sand after packing. Learn about the history and different types of casting media, then cast simple objects.
New GAC Instructor! Meet Michael Lake, Metalsmith and Object Maker. Michael is a contemporary visual artist and metalsmith from CT. He teaches introduction to jewelry and metal courses at Southern Connecticut State University.
Financial Aid for Winter 2020 Classes – If you are interested in being considered for financial aid, click here to download a financial aid form or stop by our office. Applications are due by January 6, 2020. Questions? Call Lisa Wolkow at 203-453-5947 or lwolkow@guilfordartcenter.org.
---
CALL FOR ARTISTS
New Glass, Northeast
Show Dates: March 13-April 5
Entry Date: January 27, 2020
GAC announces a Call for Artists for their upcoming exhibition, New Glass, Northeast, to be on view in the gallery March 13-April 5, 2020. This exhibition calls for works by American artists who work in glass, in any technique, and including both functional and non-functional works. The show aims to reflect the best current explorations by contemporary artists who live in the Northeast.
Juror: Amy Schwartz, Director of The Studio, The Corning Museum of Glass.
Entry Deadline: January 27, 2020
– – – – –
Fiber Forward 2020: Biennial Exhibition
Show Dates: June 12 – July 19, 2020
Entry Date: April 24, 2020
Fiber works have evolved throughout history from utilitarian usage as clothing, for warmth and traditional décor, to innovative, "outside the box" and nonfunctional uses (sculptural, conceptual, installation-oriented), particularly in the realm of contemporary art and practice. This exhibition calls for works in all fiber media and techniques that reflect the best current explorations by contemporary American artists.
Juror: Marcia Young, Publisher/Founder of Fiber Art Now, a quarterly print and digital magazine for the contemporary fiber art community, and the Fiber Art Network, which supports artists, collectors, enthusiasts, and leaders in the fiber art and textiles community.
Eligibility: This exhibition is open to works in all fiber media, including mixed media. Open to U.S. residents.
Awards: $500 in prizes to be awarded by the juror.
– – – – –
GAC Adult Student Exhibit 2020
Show dates: Feb 21 – March 6
Receiving dates: Feb 13-14
Adult students who have taken a class between September 2018 and January 2020 are invited to show up to two pieces of artwork created in a GAC class, or as a result of study in a GAC class. As many works as possible will be included in the exhibit, space permitting; students will be represented by at least one art work.
Receiving dates: Thursday & Friday, Feb 13, 14. GAC retains a 40% commission on sales.
---
UPCOMING EVENTS
Dec 19 – Men's Shopping Night (women invited too!) 6-8pm, The Holiday Shop
Jan 5 – Open Arts Day
Jan 13 – Winter Semester Officially Begins
Weather Cancellation Policy – Call GAC's main number – 203.453.5947 – for weather-related cancellations. If there is staff in the office, they will speak to you. If not, cancellations will be announced on the main phone message line (for morning classes by 8am). Cancellations will also be posted to GAC's Facebook page.
THE ANNOUNCEMENT WILL ONLY BE MADE IN THE CASE OF CANCELLATION.
Please note: GAC does not necessarily follow the cancellation schedule of Guilford Public Schools. Please always check with us to be most sure of the schedule. Classes cancelled due to inclement weather will be rescheduled, usually at the end of the semester. Pottery practice hours cancelled due to weather will NOT be made up.
---