Faculty Exhibit 2015
February 6 - March 8, 2015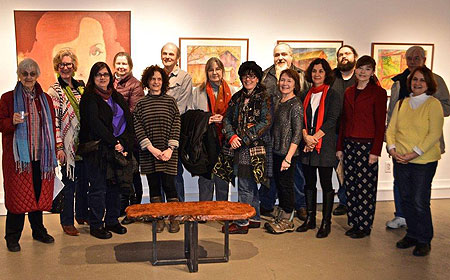 Guilford Art Center celebrates and supports creativity in all forms. Here, you can see cool things, buy cool things, and most importantly, make cool things.
The heart of our mission is our school. And the heart of our school is our faculty. They work directly with our fellow community members, helping us to experience, expand and embrace our creative potential.
Our instructors are working artists. They create in their studios, participate in gallery exhibits, art fairs and "open studios," and have works in public and private collections. Their credentials are truly impressive. In their own work, they may take a traditional and/or functional approach, or they may be wildly experimental; they may work representationally, or be ardent abstractionists.
Teaching is another part of these artists' professional lives–taking their expertise and passions and guiding others through instruction and example. A good number of them have taught at the Center for many years and sometimes decades; others are newer. Their personal style, technique and approach can guide them in the classroom, and attract students to follow them. But mostly, instructors here balance the tenets of their own work with meeting students' needs and creative desires. It's what makes them good teachers.
We are fortunate to have such talented artists at the heart of our community Art Center. We are thrilled to have the opportunity to present and celebrate the range and breadth of this talent and for the public to learn more about these artists and their art.
— Maureen Belden, Executive Director