Whiskey, Oysters & Shopping at Men's Night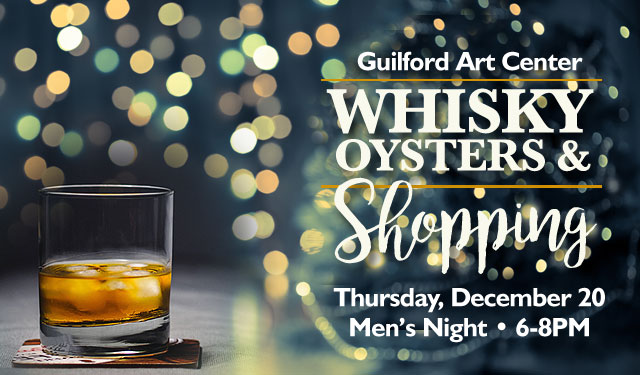 Guilford Art Center announces a special shopping event for men on Thursday, December 20, 2018 from 6-8 pm. Shoppers will enjoy scotch whiskey and oyster tastings and shop for jewelry, accessories, ceramics, leather goods, home décor, ornaments, baby gifts, men's items and much more. Friendly shop assistants will be on hand to help with selections and gift wrapping. This event is free to the public. All shoppers are welcome.
The Shop at Guilford Art Center, open year-long, is almost doubled in size during the Artistry holiday sale, creating a bountiful selection of fine craft work for shoppers to peruse. This year features many new artists, both local and national, as well as new work by ongoing favorite artists. New items are added throughout the course of the show, so visitors will always have fresh shopping experiences every time they visit.
Proceeds from Artistry benefit the exhibiting artists and Guilford Art Center's educational and community programs. Hours are Monday through Friday 9am-5:30pm, Thursday 9am-8pm, Saturday 10am-5pm and Sunday 12-5pm.
Guilford Art Center is located at 411 Church Street, Guilford, Connecticut (exit 58 off I-95). For more information call 203-453-5947.