Winter Semester Registration Opens Today
Registration for Guilford Art Center's Winter 2021 semester opens today at 10:00 am. We're excited to look ahead as we continual to create new educational opportunities for all.
The winter semester continues our hybrid approach, which offers classes and workshops that take place on-campus as well as online. Class sizes for on-campus gatherings will continue to be limited to 50% capacity and with a strict masking mandate and all other protocols in place, in order to operate safely.
Registration is online only. If you cannot register online, please email info@guilfordartcenter.org and a staff member will contact you as soon as possible.
Classes are open to all levels unless otherwise noted; adult classes are open to ages 13+. Click here for more information.
---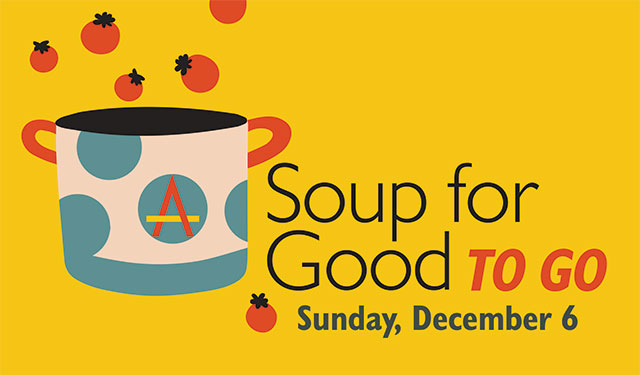 Sold Out but you can still do good!
The Soup for Good To Go event is sold out! However, you can still give much-needed support to the Guilford Art Center and the Community Dining Room through an event donation.
If you donate the ticket price ($30), you will be entered into the drawings for the handmade pottery bowls and Jacques Pepin cook books. You'll also receive the recipe booklet and video message from Chef Pepin. If you win, we will contact you via email by December 6.
Your donations are so appreciated as GAC and CDR continue to navigate financial challenges during the COVID pandemic. Thank you so much for supporting these important shoreline non-profit organizations.
Event support generously provided by Panera Bread, Cate's Sew Modern, and Shoreline Wine Merchants.
---
Inside is so delightful …
The weather outside may be frightful, but The Shop at GAC is a lovely place to be all year round. Come browse work by hundreds of artists in our Shop and find unique holiday presents for all.
We are following all protocols so that you can shop safely and comfortably. Friendly staff can help you in any way. If you prefer to shop by appointment, we can do that too. Just email ealbergo@guilfordartcenter.org. You can also shop online and pickup your items curbside.
---
Shop Hours
Wednesdays 12:00 – 4:00 pm
Thursday 12:00 – 4:00 pm
Friday 12:00 – 4:00 pm
Saturday 10:00am – 4:00 pm
Sunday 12:00 – 4:00 pm
---
Gift Certificates for Classes
How can one gift offer so many benefits?! Give the gift of a GAC class or workshop and you're giving creativity, community, mental stimulation and emotional well-being.
You can purchase gift certificates in any amount – and they NEVER expire! Click here to purchase.
---
Holiday Ornament Making Workshop for All Ages
Sunday, Dec 6. 3:00 -4:30pm (online)
This online workshop was conceived as an opportunity for families to be creative together, welcome the holiday season together and enjoy family time in a relaxed and fun manner. Materials needed are not costly and some substitutions can be made. Make a cup of hot chocolate or cider and join us! Tuition $22.50 per person; Members $20.25 per person. For more info or to register, click here.
---

Stand Strong with GAC
Your support means more now than ever as we reopen our doors and serve our students and visitors with all the benefits of the arts during these most challenging times.
Thanks to our supporters, GAC provided free, virtual offering this spring, then a full summer of online classes, and even a virtual Craft Expo. Now we're more ready-than-ever to benefit our community.
Going forward, you can make a significant impact on our GAC community during this time of reduced revenue from tuition and cancelled fundraising events. You can further bridge our financial gap and help us continue to provide programming.
To make a donation now in any amount click here.
You are the reason that GAC is surviving this period and looking toward better days ahead.
Thank you for your support and being part of our GAC community!
---
Thank you to our Business Sponsors
Prospector Partners · Yale New Haven Health
Madison Polymeric Engineering
Eder Brothers · GSB Savings Bank ·Monte Financial Group · The Stone Agency
Page Hardware & Appliance
Bailey Scarano · CK Architects · East River Energy ·
Ella Where She Shops · Kebabian's Oriental Rugs · Ladd Capital Management · Shoreline Financial Advisors · William Pitt Sotheby's International Realty
Our office staff continue to work from home. The best way to contact us via email at
info@guilfordartcenter.org
(our staff director is listed
here
) or to leave a message on the office phone (203) 453-5947. We check it regularly and will get back to you. If you are looking for your Zoom class information, please check your registration confirmation. It is listed there and the login codes remain consistent throughout the semester.