WINTER SEMESTER ANNOUNCED SOON
We are working on creating our winter semester, which is planned to continue as a hybrid of on-campus and online offerings. Class sizes for on-campus offerings will continue to be limited to 50% capacity and with a strict masking mandate and all other protocols in place, in order to operate safely.
We plan to launch registration in early December. Classes will begin the week of January 11. Registration will continue to be online only. We're looking forward to working together!
---
SHOP FOR THE HOLIDAYS AT GAC
The shop and gallery are full of beautiful handcrafted items made by hundreds of American artists, including jewelry, wood, ceramics, glass, ornaments, candles, hats/scarves, metal, holiday decor and so much more.
We are following all protocols so that you can shop safely and comfortably. Friendly staff can help you in any way. If you prefer to shop by appointment, we can do that too. Just email ealbergo@guilfordartcenter.org.
---
WE WANT TO SEE YOU!
If you've taken (or are taking) an online class with GAC, we'd love to see you at work! Please send us your pictures of you at your desk, kitchen table, studio – wherever you are creating art! It will be so interesting to see how you are making things work remotely. Please forward pictures to Lisa at lste.marie@guilfordartcenter.org.
---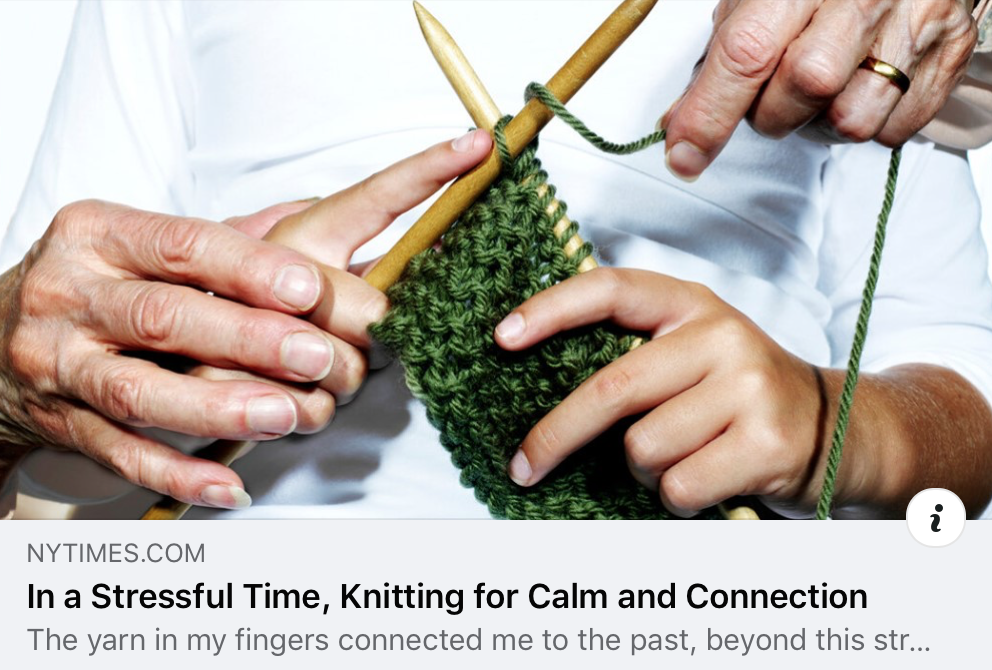 NYT KNITTING ARTICLE
Did you see this NYT article about knitting during stressful times? If you're a fiber artist, you'll love it. If you aren't, it's still worth a read because it's so beautifully written. Enjoy.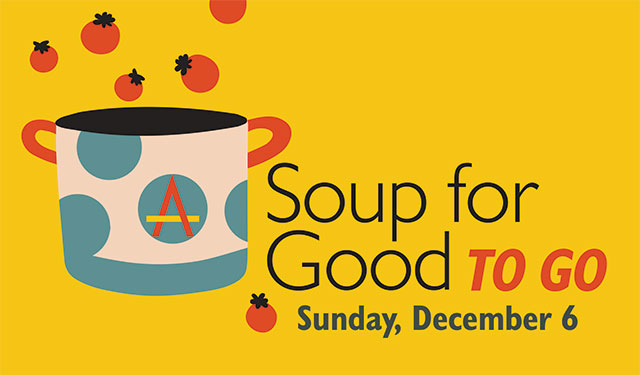 PURCHASE TICKETS NOW FOR SOUP FOR GOOD TO GO
The Soup for Good To Go event is sold out! However, you can still give much-needed support to the Guilford Art Center and the Community Dining Room through an event donation. Click here!
This event looks a little different this year, but it still does the same amount of GOOD! Tickets are $30 per person and include a choice of 3 homemade soups, bread, a split of wine, and a sweet, all packaged in a handmade, reusable fabric bag. Participants will also receive a discount coupon for The Shop at GAC and an entry into a drawing to win handmade bowls by GAC potters and autographed copies of Jacques Pepin's newest cookbook Quick & Simple.
Purchase your tickets now by December 4. Participants will pick up their soup and bread "to go" at GAC on Sunday, December 6 from 2:00 – 4:00 pm. Drawing winners will be announced earlier and prizes can be picked up then as well. Thank you for the much-needed support for GAC and the Community Dining Room!
---
FALL WORKSHOPS
Click each linked workshop to see more detail and to register.
BLACKSMITHING
PAINTING
SPECIAL INTEREST
ALL AGES
---
STAND STRONG WITH GAC
Your support means more now than ever as we reopen our doors and serve our students and visitors with all the benefits of the arts during these most challenging times.
Thanks to our supporters, GAC provided free, virtual offering this spring, then a full summer of online classes, and even a virtual Craft Expo. Now we're more ready-than-ever to benefit our community.
Going forward, you can make a significant impact on our GAC community during this time of reduced revenue from tuition and cancelled fundraising events. You can further bridge our financial gap and help us continue to provide programming.
To make a donation now in any amount click here.
You are the reason that GAC is surviving this period and looking toward better days ahead.
Thank you for your support and being part of our GAC community!
---
THANK YOU TO OUR BUSINESS SPONSORS
Prospector Partners · Yale New Haven Health
Madison Polymeric Engineering
Eder Brothers · GSB Savings Bank ·Monte Financial Group · The Stone Agency
Page Hardware & Appliance
Bailey Scarano · CK Architects · East River Energy ·
Ella Where She Shops · Kebabian's Oriental Rugs · Ladd Capital Management · Shoreline Financial Advisors · William Pitt Sotheby's International Realty
---
CONTACTING GAC
Our office staff continue to work from home. The best way to contact us via email at
info@guilfordartcenter.org
(our staff director is listed
here
) or to leave a message on the office phone (203) 453-5947. We check it regularly and will get back to you. If you are looking for your Zoom class information, please check your registration confirmation. It is listed there and the login codes remain consistent throughout the semester.