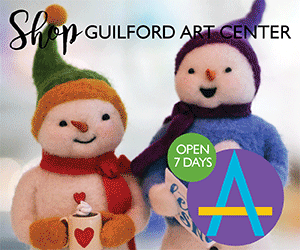 Shop extraordinary work from over 200 American artists, makers and designers in our Holiday Shop. Gift categories include ceramics, pottery, glass, jewelry, homewares, clothing, fiber, ornaments, accessories, toys, specialty foods, stationery, leather goods and more.
OPEN 7 DAYS A WEEK
Monday-Saturday, 10:00am-5:30pm
Sunday 12:00 – 5:00 pm
GAC Members receive 10% off all purchases year-round.

Hiring for weekend help in the Shop. Interested in picking up some weekend work through the holidays? We are hiring ASAP for shop assistants to work in the shop on Saturdays and Sundays through the end of the year. It's a great opportunity for college students home for break, or anyone who wants to work a bit extra to cover holiday expenses. Interested? Contact Elena Albergo.
November Classes & Workshops
THE ART OF THE JAPANESE BLADE WORKSHOP
Thursday – Monday, November 18-22
10:00am-5:00pm
Instructor: Mace Vitale
In this 5-day intensive, students will learn to forge a traditional Japanese tanto blade. The blades will be ground and filed. Heat treat will be done with a clay coating to create the "Hamon" or hardening line. Blade will be polished and etched to reveal its true beauty. Register.
ABSTRACTING THE FIGURE WORKSHOP (ONLINE)
Saturday, November 20, 10:00pm-1:00pm
Instructor: Shilo Ratner
This online workshop examines the figure and how to paint it in the abstract. Some understanding of anatomy may be helpful but not a requirement. Proportions and measuring will be demonstrated as a reference for students to develop their own interpretations of abstracting the figure on canvas. Register.
FIREPLACE TOOLS WORKSHOP
Saturday-Sunday, November 27-28, 10:00am-4:00pm
Instructor: Greg AmEnde
This weekend class will cover the making of a set of fire place tools (poker, brush, ash shovel). You will learn the basics of blacksmithing, including tapering (drawing out), forge welding, bending, riveting and setting down. Register.
OPEN FORGE: SESSION D
5 Wednesdays begins Dec 1
6:00-9:00pm
This class provides a chance for blacksmithing and bladesmithing students to continue projects they have started, or start a new project under the guidance of a working smith. Projects will be tailored to the individual student. Pre-requisite of a beginner blacksmith or bladesmithing class. Register.
INTRO TO BLACKSMITHING WORKSHOP; SESSION B
Saturday-Sunday Dec 3,-4 10:00am-4:00pm
Instructor: Mace Vitale
This workshop will introduce students to the basics of forging steel to shape using a hammer and anvil. Register.
JOOMCHI WORKSHOP
Saturday-Sunday, December 4-5, 10:00am-4:00pm
Instructor: Jiyoung Chung
Joomchi is a unique Korean method of making textured handmade paper using water and eager hands. You'll also discover its history, practice and role in Korean society. Register.
LEATHER DOG COLLAR & LEASH WORKSHOP
Saturday-Sunday, December 4-5, 10:00am-5:00pm
Instructor: Claudia Mathison
Learn basic leather tooling, finishing and sewing skills while making your pet a wearable piece of art and durable leash. Register.
Give A Learning Experience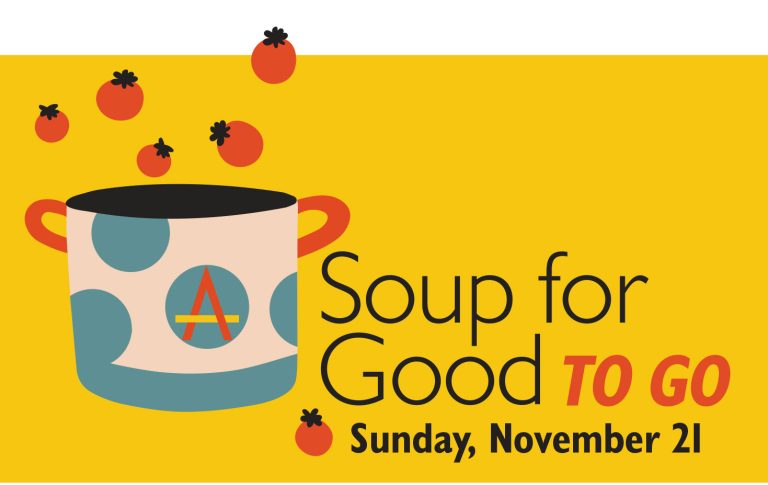 Support Two Guilford Non-Profits with 1 Ticket
All soup tickets are gone, but you can still support our Soup for Good event by purchasing a $40 ticket and be entered into drawings for prizes, plus a 15% shop coupon and event recipe booklet. All proceeds from this event provides crucial support for Guilford
Art
Center
and the Guilford Food Bank. We are so appreciative of your donations that enable us to provide quality arts programming year-round, plus benefit the good works of our friends at the Food Bank.

Thank you to all of our Business Sponsors
Prospector Partners · Yale New Haven Health
Eder Brothers · Page Hardware & Appliance · The Stone Agency
Bailey Scarano · CK Architects · East River Energy · Kebabian's ·
Ladd Capital Management · Monte Financial Group · Shoreline Financial Advisors ·
William Pitt Sotheby's International Realty