Our Donors + Sponsors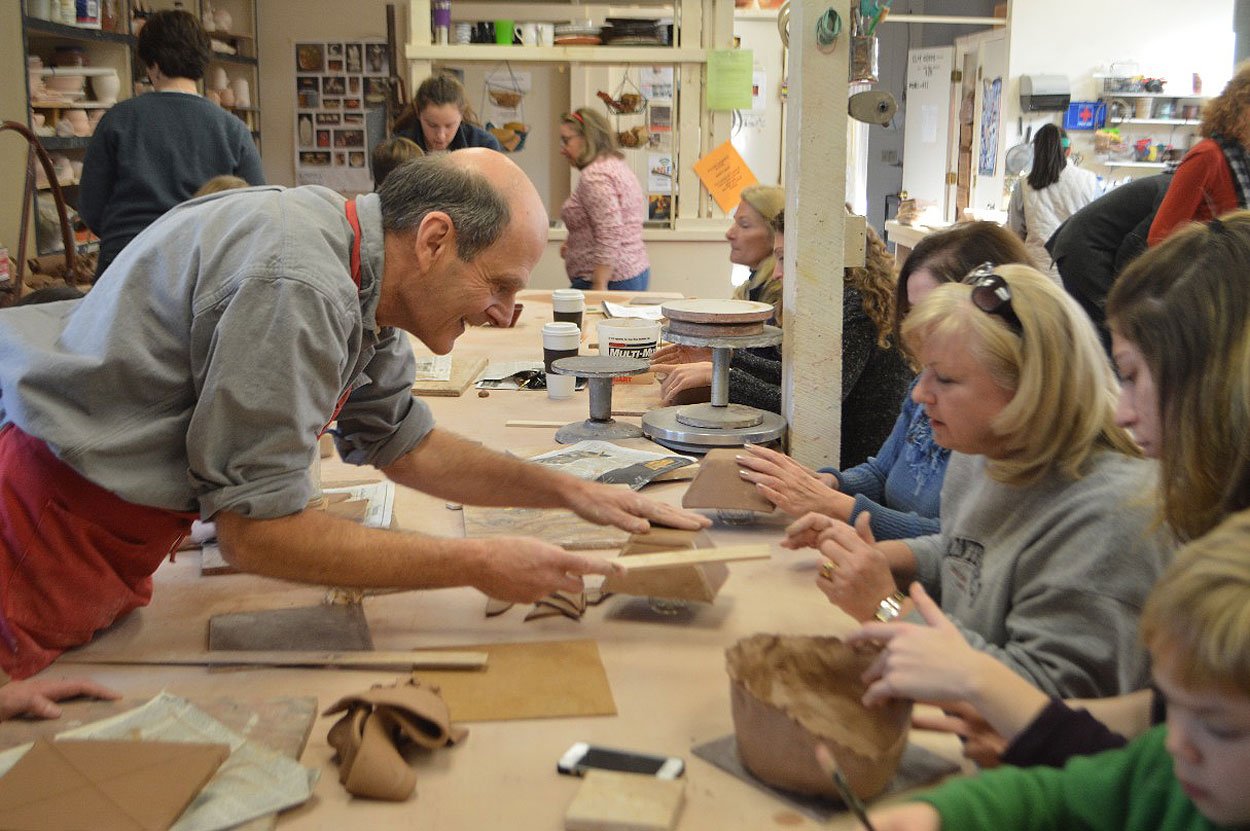 THANKS TO OUR DONORS + SPONSORS!
The Center extends its sincere thanks and appreciation to its many individual and business friends and sponsors who through their generous support help make the school, gallery, shop and Craft Expo programming possible.

SPONSORS
Partners
Prospector Partners
Yale New Haven Health
Supporters
Eder Brothers
Page Hardware & Appliance
The Stone Agency
Friends
Bailey Scarano
CK Architects
East River Energy
Kebabian's
Ladd Capital Management
Monte Financial Group
Shoreline Financial Advisors
William Pitt Sotheby's International Realty
FOUNDATIONS & INDIVIDUAL DONORS
$10,000+
Elizabeth Alcorn
Deb Abildsoe & Irving Schloss
Anonymous
The Community Foundation for Greater New Haven
State of Connecticut Department of Economic Development
The Guilford Foundation
The Stoddard Family Foundation
$5,000-$9,999
NewAlliance Foundation
$1,000-$4,999
Anonymous
Julia Bogardus
Richard Chorney
Valerie Cook
Andrew Davis
Davis Family Fund
Stephanie Donegan Dietz
Kristen & Johan Eveland
Andrew Geaslin
Joseph & Cindy Goldberg
Richard & Yvette Howard
Amy & David Jaffe
Joyce Family Charitable Fund
Jane Kammerer
Gretchen & Charlie Kingsley
Terry & Martha Maguire
Panoram Foundation
Bonnie Gould Rothberg
Raymond B. & Kathleen V. Rudy, in honor of Nina V. Donnelly
Allan Starr
Cyndi & Rick Tuchman
Judith Anne Young
$500-$999
David Bailey
Rise Daniels
Clo & Stephen Davis
Richard & Nadine Jerbi
Deirdre & Robert Jacob
Judith & Sheldon Kaufman
Michele Millham
Robert & Martha Monte
Robert Parrott & Anita Griffith
Cheryl Suzio
$250-$499
Anne Afragola
Constance & David D'Atri
Kip Bowman
Dorothy Cochrane
Wendy Davis
Pamela DeMaio
Sallie Gouverneur
Rebecca Hoblin
Charles Holyfield
Denise Isaac
Amy McCauley
Diane Palmeri & Albert Rossini
Christine Penberthy
Amy Peters
Jeffrey Schackner
Wendy Sharp
Louis F. and Mary A. Tagliatela Family Foundation
Aaron Tessler
$100-$249
George & Anne Aghajanian
Jeffrey Allen
Marian Altman
Paul Armond
Roger & Mary Barnes
Helen Berke
Elizabeth & John Best
Jonathan & Nancy Bishop
John & Holly Bollier
Christine Bouchard
Bill & Katy Bloss
Kenneth & Judith Boudreau
Susan Brady
Julie & Tony Broom
Alison Bohren
Kathleen Brown-Dorato
Pamela Carley
Robin & Rob Charney
Roz Chast
Jefferson Chin
Betsy & John Dailinger
Barbara David
Karen Davidson
Lois DeLise
Kathleen & Robert Dess
Catherine & Phil Dinauer
Lauri Donovan
Joan Downey
Greg & Jackie Downing
Connie Drysdale
Eileen Eder
Alise Ferency
Lynn & Nick Fischer
Lili Foggle
David & Gina Frank
Linda Fox
Aiden Garrity
Pam Gallagher
Patricia Garson
Anne & Jeffrey Godsey
Kara Gormley
Donna Grajauskas
Carolyn Grave
Paul Greenberg
Jane & Steve Gresham
Jack Heil & Gayle Capozzalo Heil
Lynne Hyman
Michaele Imbrogno
Joanna & Lee Jacobus
Karen Kremer
Maria Krisch
Gerry Lang
Laurie LaTerza
Sara Leighton
Cheryl Levine
Arthur & Aurelle Locke
Ted & Lisa Lovejoy
Elizabeth Lowery
Anne MacClintock & Jerry Mashaw
Ken MacKenzie
Amy & Paul Macy
Donna Marland
Jennifer Mandel
Matthew Matorin
Megan Mayall
Janet & Charlie McClure
Susan McGlone
Laurel McLean
Jennifer & Michael McNiff
Senator Edward & Patty Ann Meyer
Charles & Mary Miller
Anne Morrison
Sara O. Nelson
Dr. Paul & Estelle Nussbaum
Alicia Pena
Diana Perron
Jon & Cassy Piccard
Mindy Pollack
Wendy Price
Karen Quercia
Gail Reen
Daphne Rich
Maira Rieger
Denise Roberts
Doug & Sue Rollins
Nina Rose
Jodi Rucquoi
Katharine Sacks
Betty Sarubbi
Carolyn Sasaki
Claudia Schiavone
Andrea &Mark Sklar
Sandra Spahr
Deborah Spalding
Pam & Sandy Stoddard
Elsa Stone & Steven Wolfson
Mary Ellen Sullivan & Malachy Noone
Judy Terrill
Dawn Tischbein
Gunilla Thulin
Teresa Twomey
Steven Uccello
J. Barbara van Leeuwen
Patricia Walker
Watering Pond Foundation
Irene Watson & Norman Dupuis
Sandy & Dick Whelan
Robert & Charlotte White
Marc Ziner
$15-$99
Marian Altman
Doug Baldwin & Betsy Gribble
Patricia Bee
Mr. & Mrs. Robert Blake
Mary Beeman
Maryann Bracken
Rebecca Bunting
Georgeanne Campaigne
Traci Canavan
Zeno Chicarilli
Suzanne Conlon & David Young
Joan Clark
Jan Crawford, in memory of Todd Crawford
Jennifer Davies
Francine Even
Gail & Gerald Friedland
Mary Fusco
Mary Ann Goodrich
Barbara Segen Gould
Kate & Michael Haggans
Roberta Hanlon
Sheila Kaczmarek
Barbara Kagan
Amanda Kallen
Kirsten Kane
Steven Kaye
Erin Keanna
Mollie Keller
Michael Kelley
Risa Kent
Mary Jo Kestner
Joan King
Louis King
Benjamin Klein
Joan Kliger
Karen Kramer
Leslie & Harlan Krumholz
Josh Larivee
Ronnie Lashkowitz
Cecilia Lins-Morstadt
Laura Ludington
Margaret Magida
Barbara Malmberg
Allison Maltese
Janice Markham
Emily Matorin
Linda Mayes
Dolores Marchese
Jamie McCauley
Joy McConnell
Allen Miller
Maryjane Minkin & Steven Pincus
Andrew Mintz
Jessica Missios
Barbara Morrison
Marie Myles
Mary Norris
Brenda Novak
O'Keefe Family
Wendy Oestreicher
Doralee Onorati
Yvonne Oxley
Patricia & Mark Panico
Chris Penry
Karin Peterson
Diane Petra
Tom Pinchbeck & Bonnie Garmisa
Eva Polizzi
Joan Rawlings
Daphne Rich
Diana Rogers
Tina Roman
Sandra Ruoff
Mr. & Mrs. Everett J. Rutan III
Deborah Ryan
Stephen Shelton
Veronica Soell
Marjorie Sopkin
Erin Sowers
Kirby Stafford
Sandra Stein
Loren Sterman
Joanne Stern
Deboarah Stewart
Christy Stoddard
Lee Sylvester
Darcy Turner
Mace & Valentina Vitale
Linda Waldman
Marilyn Walsh
Mary Wargo
Ellen Warner
Julie Weed
Martha Weisbart
Susan Welsh
Steven Wolfson
Judith Wright
Shane Zide
Many thanks to the volunteers who give so generously of their time to support the GUILFORD ART CENTER throughout the year. You help make GAC a vital part of the community!