Fiber Arts Instructor Wins Environmental Grant
GAC Fiber Arts instructor Marsha Borden is micro focused on climate change awareness. Currently, she's translating microalgae occurring in Long Island Sound into works of art, as one of three project artists selected to receive a 2022 Connecticut Sea Grant
"I realized I had an opportunity to propose something that I like to do – making objects by hand with fiber – and also raising awareness about some of the harmful impacts in our environment, and how that's changing it and the water that's all around us."
Read more about Marsha's work and award here.
---
Upcoming Workshops
Come inside our classrooms to get creative this weekend! Our classrooms are warm and cozy while the wind blows outside. Register here.
Charcoal Drawing & Value
Instructor: Lisa Arnold
7 Thursdays beginning October 6, 10:00am-12:00pm
Charcoal is a wonderful medium to work to learn about light and dark shading, form and other techniques. Explore still-life set-ups, study hands, eyes and more. Tuition $182; members $163.80
Expressionist Art Collage Painting Workshop
Instructor: Dolores Marchese
Sunday, October 8. 1:00-4:00pm
Working with collage, painting and drawing we will learn through expressive forms and colors about who we are and want to do. Find personally relevant shapes, then use gathered illustrations, writings, paper, paints, markers, etc to create collage-paintings-drawings. Fee payable with tuition $15. Tuition $39; members $35.10
Terracotta Pumpkins Workshop (ages 5+)
Instructor: Betsy Chichester
Saturday, October 8, 10:30am-12:00pm
Children love building their own scary or funny Jack-o-lantern with terra cotta clay. Students will receive instruction and guidance to learn the coil hand building technique. They will then have a chance to become creative to give their pumpkin a personality. Time permitting we will tour the pottery to see the kiln where their Jack-O-Lanterns are fired. Members:$37.50 Non-Members $33.75
Intro to Kumihimo Workshop
Instructor: Lynn Sheft
Sunday, October 16, 1:00-5:00pm
Learn Kumihimo, an ancient Japanese method of braiding cords. you will learn to braid the cords and integrate seed beads with a toggle clasp, to create a stunning bracelet. Fee payable with tuition $45. Members:$46.80 Non-Members $52.00
---
Ongoing Registration for Adult & Youth Fall
Click here to view our new fall catalog, where you'll see classes and workshop for adults, teens and youth. The semester runs through early December. Questions? Email info@guilfordartcenter.org or call us (203) 453-5947. Our office is open M-F, 10am-4pm.
---
Where is Bones Today?!
Follow us on Instagram to see what Claude "Bones" Bonet is up to at GAC this month. Apparently he's really into "skelf portraits" and "skullpture". What art form will he try next?! Happy Halloween!
---
Preparing for the Holidays
Work has been ongoing to prepare the shop for this years' annual shopping event, called "Holiday Expo." Doors will open Friday, October 28 through the holidays. Our shop and gallery will be filled with handmade work by American artists in all media. We know you'll find something for everyone on your gift list.
Mark your calendars for the Opening Reception (the first one we've had in 2 years!) on Thursday, November 3, 5-7 pm. We'll enjoy holiday cheer and a fun raffle of beautiful items. Also, GAC Members week runs October 28 – November 4. All GAC members receive 15% off all purchases in the Shop. Get your shopping done early and save! Members receive 10% through the rest of the event.
---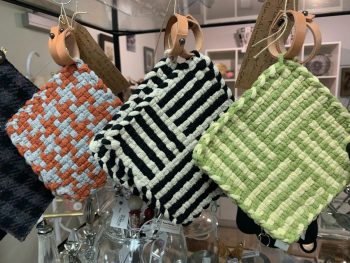 In the Shop
Add a Little Style in the Kitchen – These potholders bring color and vibrant graphic design to your kitchen. Made of all cotton with a removable leather strap by GAC Fiber Arts instructor Claudia Mathison. 5.5"x5.5"; $36 each
Shop 7 days a week
Monday-Saturday 10am-4pm, Sundays 12-4pm
GAC members receive 10% off all purchases
---
Staff Picks from The Shop are now on our website!
Every month we'll release a new list of shop favorites by members of our staff. Check out this new page and see what piques our interest this month. BTW, you've never seen us look so good!! Click here to see the full listing and check back each month for new lists of items.