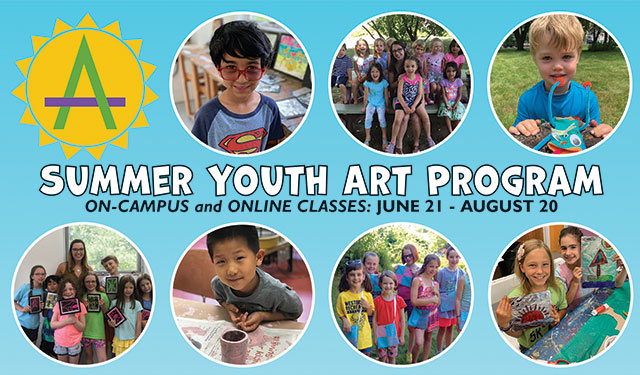 Registration is now open for Guilford Art Center's 2021 summer youth program. Weekly sessions will begin the week of June 21 for children ages 5 – 12 years and teens. The summer semester runs from June 21 – August 20. Registration will be online only.
The summer program features weekly on-campus sessions; youth can attend half-day or full-day. Bridge care will be available. There will also be weekend workshops and online workshops offered throughout the summer.
Classes and workshops are available in a variety of mediums, including beading, jewelry making, leather working, metalsmithing, painting, paper arts (paper quilling), pottery (hand-building and potters' wheel), recycled material art, shell crafts, sculpture, weaving and special interest online workshops in drawing and mixed media. Teen classes include blacksmithing, leatherworking and stained glass.
"We are thrilled to welcome young artists back to our campus this summer" says GAC Executive Director Maureen Belden. "We've heard from so many families that their children are excited to be back in the studio, ready to explore, create and have fun together."
Class sizes will be limited and with a strict masking mandate and all other protocols in place, in order to operate safely. "GAC has been offering classes on-campus now since the fall, so we have solid experience of operating safely and following all guidelines" says Belden. "Parents should feel confident that their children will be welcomed back to a space that is clean, ventilated and prepared for in-person learning. However, we also realize not everyone is ready for that, so we are offering some online classes as well."
Financial aid is available; applications can be found at www.guilfordartcenter.org and are due June 11.
• Download the Summer Youth Program 2021 Catalog
Full listings of all classes, registration, and financial aid information can also be found here.
For more information, contact Guilford Art Center at info@guilfordartcenter.org.