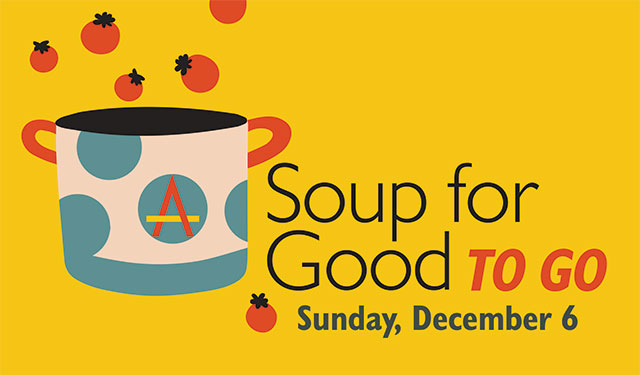 The Soup for Good To Go event is sold out! However, you can still give much-needed support to the Guilford Art Center and the Community Dining Room through an event donation.
If you donate the ticket price ($30), you will be entered into the drawings for the handmade pottery bowls and Jacques Pepin cook books. You'll also receive the recipe booklet and video message from Chef Pepin.
If you win, we will contact you via email by December 6.
Your donations are so appreciated as GAC and CDR continue to navigate financial challenges during the COVID pandemic. Thank you so much for supporting these important shoreline non-profit organizations.
The Holiday Shop at Guilford Art Center will be open for special shopping hours on Sunday, December 6 from 2:00 – 4:00 pm. The public is welcome to come and browse hundreds of items made by American artists. It's time to start your holiday shopping!
Event support generously provided by Panera Bread, Cate's Sew Modern, and Shoreline Wine Merchants.
The Community Dining Room provides food, support and companionship to our shoreline neighbors. It is committed to serving the community by feeding the hungry and helping with other basic human needs. Guilford Art Center is a non-profit organization established to nurture and support excellence in the arts through education, communication, and outreach.
Contact Guilford Art Center with questions or requests for more information.