Fall Registration Opens Next Week
While there is plenty of summer left, it's time to start thinking about your NEXT class or workshop at GAC! We just released our fall catalog on our website – see it HERE. You can peruse the classes and prepare for registration, which opens next week. Here are the registration dates and times:
REGISTRATION DATES FOR FALL SEMESTER
Registration for each category opens each day at 10:00am
Monday, Aug 7 METALS
Tuesday, Aug 8 WEAVING
Wednesday, Aug 9 CERAMICS
Thursday, Aug 10 ALL CATEGORIES OPEN
Financial Aid Available
Prospective GAC students are encouraged to apply for financial aid if it will better enable them to enroll in classes. The due date to apply for financial aid for the fall semester is September 8. Financial aid is available for adults and children based on need.
Two more weeks of Summer Youth Program! Registration remains open and weekly sessions continue through the week of August 14.
Click here for our online catalogs.
---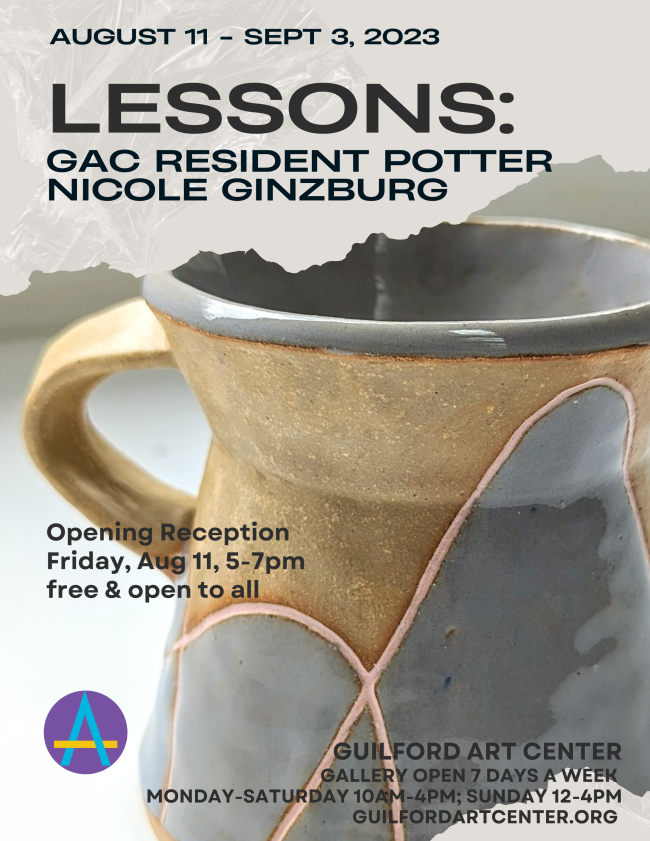 ---
Support Craft Expo Artists
Remember our Craft Expo artists as you continue to shop this year! Due to severe weather, we had to cut short our Craft Expo event this year (the first time in 66 years!). While we were all disappointed, a cancellation like this hits the participating artists particularly hard. We encourage you to look for them online, visit them at other craft shows and continue to support their work. Link HERE to all of the artists who participated in Guilford Craft Expo 2023.
---
What's New in The Shop
New Jewelry Line Repurposes Fast Fashion Materials
Tilly Doro is a small, woman-owned and -operated jewelry line that uses recycled materials sourced from fast fashion manufacturers. Metals are melted down and repurposed into thoughtfully, beautifully designed pieces to keep waste out of landfills and give old adornments new life. Price range $24-$60.
The Shop Hours
Monday – Saturday, 10:00am-4:00pm
Sunday 12-4:00 pm
All GAC members receive 10% off all purchases all year!
---
Weekend Workshops
Your kids and grandkids will be so impressed!
Register now for the Paper Toys Workshop, held this Saturday, August 5, 1:00-4:00pm. In this adult workshop, students will draw, color, cut and construct custom, 3-D paper characters or objects. And there are a few spots left in the Forging Your Own Hammer blacksmith workshop this Saturday-Sunday, August 5-6, 10:00am-4:00pm. In this worshop students will forge their own hammers and make and mount handles.