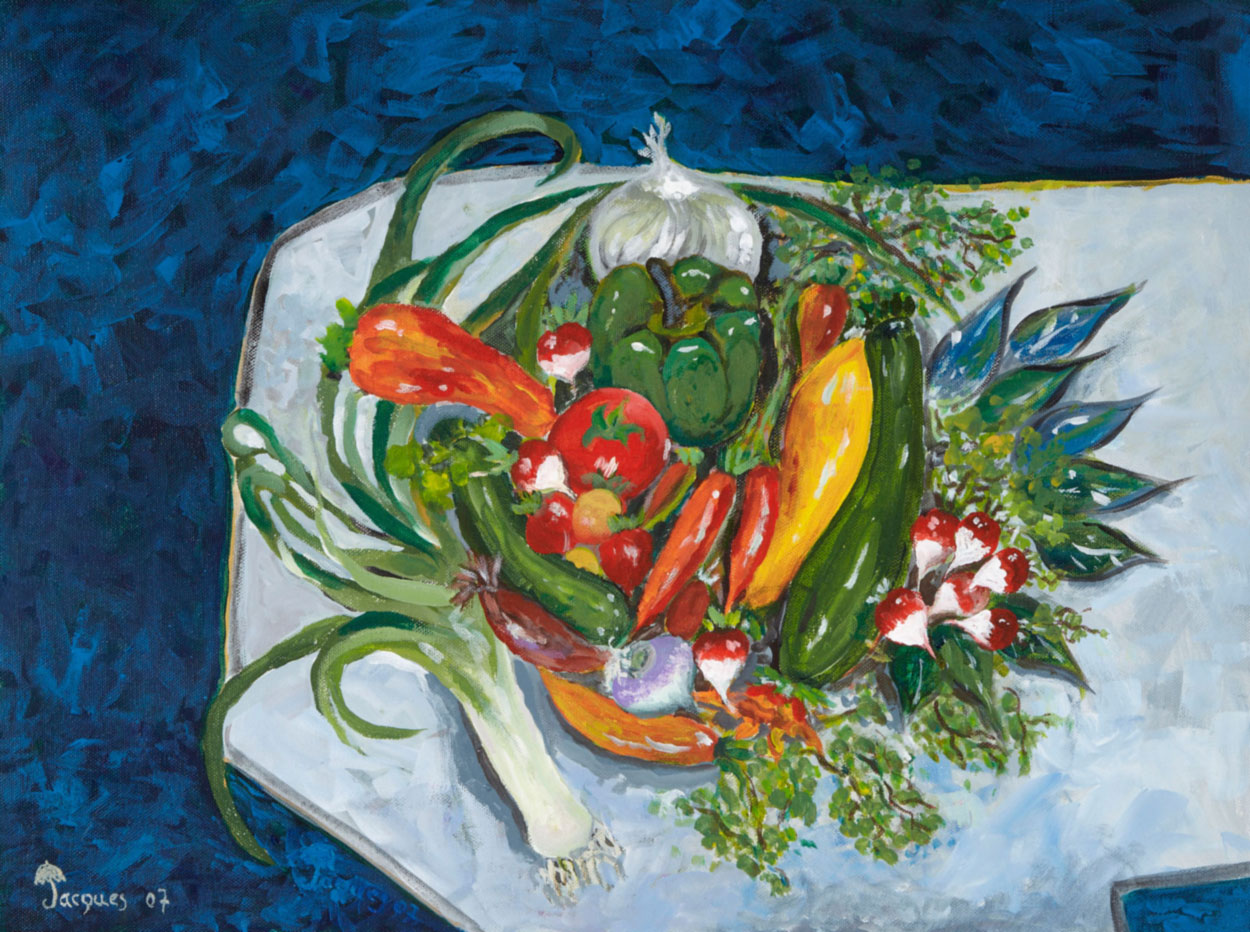 Guilford Art Center is pleased to announce an exhibition of original painting and prints by Master Chef Jacques Pepin, called "The Artistry of Jacques Pepin." This exhibition will take place in the Center's Gallery June 21 – July 21, 2019. It is the first comprehensive exhibition of Jacques Pepin's art, and will introduce viewers to this fascinating aspect of the renowned chef's pursuits.
While Jacques Pepin is revered worldwide for his cooking, his artwork is less-known—but equally compelling, intuitive, and creatively expressed. As he has stated: "I don't know whether my painting has helped my cuisine, or whether my cooking has helped my painting, and I don't know if one borrows from the other. All I know is that, certainly for me, cooking and painting can live in harmony together. Both are different expressions of who I am and both enhance my life considerably."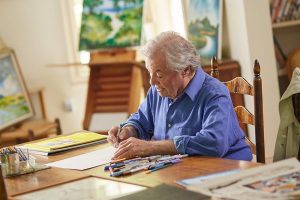 Pepin began painting over 50 years ago, starting with hand-illustrated menus created to celebrate the joy of mealtime gatherings for friends and family. Since then, he has expanded to capturing animals (particularly roosters and chickens), farm scenes and rural landscapes in a charming, pastoral style with a vivid palette.
A Madison, Connecticut, resident for more than forty years, Pepin wanted to share his artwork with his shoreline "neighbors," hence this collaboration with Guilford Art Center. "I am pleased to be partnering with the Guilford Art Center for this exhibition in support of their stellar reputation in the arts community and access to all approach to sharing art education and experiences."
"We are thrilled to be working with Jacques Pepin, and honored that he has chosen to collaborate with us for this major presentation of his art," says Maureen Belden, Guilford Art Center Executive Director. "We think visitors will be fascinated to learn about this aspect of his creativity, and charmed by his images and elegant style."
The exhibition will include original paintings, along with limited edition signed prints. Copies of Pepin's newest book, called Menus: A Book for Your Meals and Memories will be available for purchase in The Shop at Guilford Art Center.
The opening reception with Chef Pepin will be held Friday, June 21 from 5-7pm. Due to space limitations, this is a ticketed event; tickets are $30 per person, which includes a copy of the Menus book which Pepin will sign; wine, finger foods, and a chance to mingle with Pepin.
After the opening reception, the gallery is free and open to the public, 7 days a week. Gallery hours are Monday-Friday, 9am-5pm, Saturday 10am-4pm and Sunday 12-4pm.
About Jacques Pepin
Jacques Pépin is the acclaimed Master Chef who helped introduce generations of Americans to refined cuisine through his PBS television series with Julia Child and dozens of cookbooks, many of which climbed into the New York Times Best Sellers list. Earlier in his career, Jacques served as Dean of Special Programs at The French Culinary Institute in New York. He co-founded the Certificate in the Culinary Arts and Master of Liberal Arts in Gastronomy programs at Boston University, and currently serves as executive culinary director for Oceania Cruises, where he oversees seven onboard restaurants including Jacques Bistro. www.jacquespepinart.com
About Guilford Art Center
The Guilford Art Center is a non-profit school, shop and gallery established to nurture and support excellence in the arts. Through classes for adults and children, gallery programs, a shop of contemporary crafts, and special events, the Center fulfills its mission to provide opportunities for the public to participate in the arts, to experience their cultural and historical diversity, and to appreciate the process and product of creative work. Founded in 1967 (as the Guilford Handcraft Center), the Center evolved from the first Handcraft Expo, held on the Guilford Green in 1957. It currently serves over 2,000 students in classes, presents juried and invitational exhibits of art in the Center's gallery and operates a shop of fine, handmade American crafts year-round. The Center also presents the Craft Expo, held on the Guilford Green each year in July, that features works by more than 180 of the country's most distinguished artisans and is a much-anticipated an