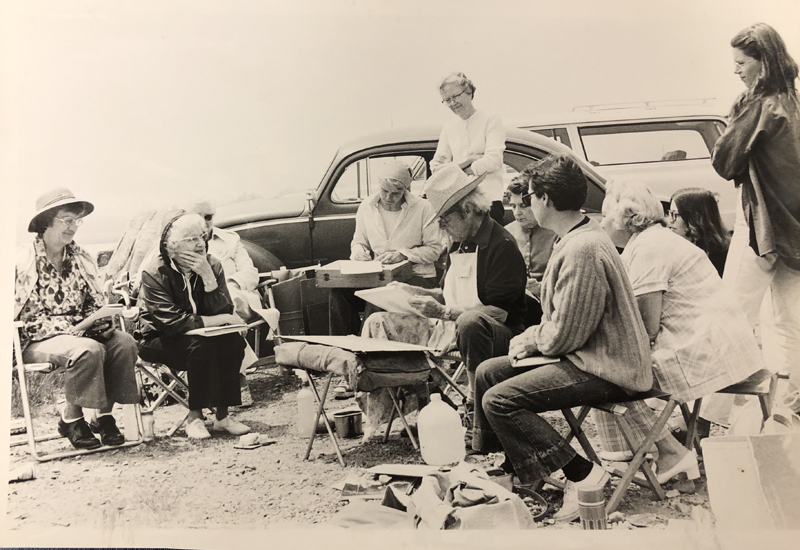 Guilford Art Center is pleased to announce an exhibition of a selection of works by artist DeWitt Brouard. The exhibition will take place in the Center's school building, March 31-April 28, 2019, with a reception for the public on Sunday, March 31, 2-4pm. The reception and exhibition are free and open to the public.
DeWitt Brouard (1899-1988) was one of the first instructors at the Guilford Handcraft Center (as the Guilford Art Center was originally known) when it opened in 1967. For more than twenty years, he taught watercolor and sumi-e drawing (an East Asian calligraphic drawing technique). He himself did not begin to paint seriously until just before his retirement in 1964, and it was to stave off possible boredom after a busy business life in New York. He moved to Guilford, Connecticut, began creating art in earnest, and developed a strong following of students at the Handcraft Center, including subsequent longtime watercolor instructor Joan Downey, who still teaches at GAC.
In 2015, DeWitt's son Paul Brouard and his wife, Linda, generously donated a selection of works to Guilford Art Center, in honor of his strong connection to the Center and his history as a founding instructor in the arts. This exhibition is a celebration of Brouard's lively work and legacy.
For more information call 203.453.5947. Gallery hours are Monday-Friday, 9am-5pm, Saturday 10am-4pm and Sunday 12-4pm.