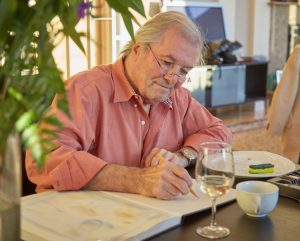 An exhibition of original painting and prints by Master Chef Jacques Pepin, called "The Artistry of Jacques Pepin," was featured in the Guilford Art Center's Gallery June 21 – July 21, 2019. It was the first comprehensive exhibition of Jacques Pepin's art, and introduces viewers to this fascinating aspect of the renowned chef's pursuits.
While Jacques Pepin is revered worldwide for his cooking, his artwork is less-known—but equally compelling, intuitive, and creatively expressed. As he has stated: "I don't know whether my paint-ing has helped my cuisine, or whether my cooking has helped my painting, and I don't know if one borrows from the other. All I know is that, certainly for me, cooking and painting can live in har-mony together. Both are different expressions of who I am and both enhance my life considerably."
Pepin began painting over 50 years ago, starting with hand-illustrated menus created to celebrate the joy of mealtime gatherings for friends and family. Since then, he has expanded to capturing an-imals (particularly roosters and chickens), farm scenes and rural landscapes in a charming, pastoral style with a vivid palette.
A Madison, Connecticut, resident for more than forty years, Pepin wanted to share his artwork with his shoreline "neighbors," hence this collaboration with Guilford Art Center. "I am pleased to be partnering with the Guilford Art Center for this exhibition in support of their stellar reputation in the arts community and access to all approach to sharing art education and experiences."
The exhibition included original paintings, along with limited edition signed prints. Click. here for a complete list of featured items.