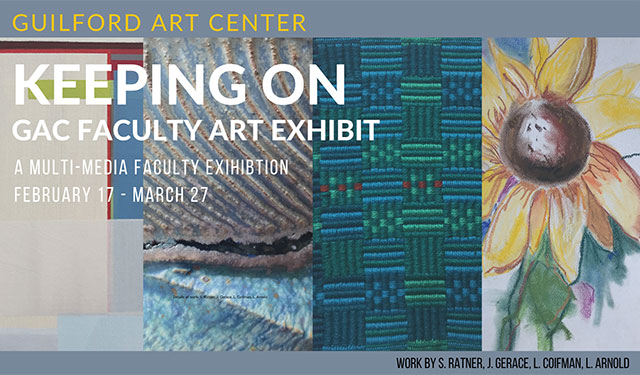 New Opening Date for Faculty Exhibition: Wednesday, February 17
Keeping On", the mixed media exhibit of GAC faculty work, will now open on Wednesday, February 17 at 12 noon. We thank you for your patience as we prepare the show and hope to see you in the gallery beginning next week.
The GAC gallery is open Wednesday – Friday, 12:00-4:00pm and Saturdays 10:00 am-4:00pm. The gallery is free and open to the community. Mask wearing and social distancing is required upon entry. Click here for more information
"Keeping On," open February 17 – March 27, shares how GAC instructors have engaged with their art to help them "keep on" during this time of the pandemic, or even how they have struggled, or changed creatively. Featured works include ceramics, painting, drawing, fiber art, metals, and sculpture by members of our 50 person faculty.